Now Open in San Carlos
AWA Purified and Alkaline Water is your main source for water in San Carlos!
Our water comes from its own well, not those of CEA. It's the best water quality in town, available exclusively in San Carlos. Balance Your Body!
All our equipment is new and we use the latest technology to offer you the services of both Purified Water and Alkaline Water. Our purification system is modern and unique to San Carlos. We have the highest standards of maintenance and water quality with the aim of taking care of your health that the health of your family.
We are conveniently located on the main street Beltrones Blvd, at the corner of Avenida G (near Thrifty Ice Cream), where we have plenty of parking.
We pride ourselves on our excellent service.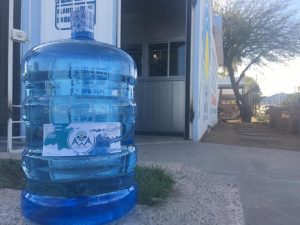 We offer both Purified water and Alkaline water
You can purchase ½ liter bottles, 1 gallon jugs, and 5 gallon jugs (jug in Spanish is "garrafon").
We conveniently offer our water service in 3 different ways:
1.  Come to the store and re-fill your bottles. (Q. Do they bring them in and out of the car?)
2.  See our delivery truck in your neighborhood….wave us down and we'll replace your water bottle(s)
3.  Home Delivery – Just call us and we'll bring the water bottle(s) to your home
Prices Vary for each service
What are the benefits of drinking alkaline water?
Alkaline water has a higher concentration of alkaline minerals such as calcium, potassium, magnesium, among others. This makes a water richer in oxygen, improves the taste, and adds various healthy benefits to your body.
These key benefits are:
* Helps our body to eliminate waste
* It is recommended for athletes because of its ability to reduce fatigue
* Prevents premature aging
* Prevents diseases such as asthma, diabetes, hypertension, hepatitis, even back pain back
* It is a powerful natural antacid and improves our intestinal health
* Avoids liquid retention
* Provides better hydration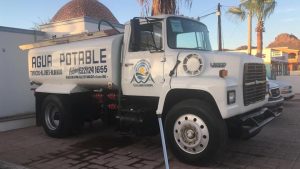 Water Trucks
We offer various services such as:
* Filling Cisterns (in Spanish "tinacos") of all sizes, above or underground
* Filling of Pools
For those days without city water — don't fret!
Our water trucks are available to assist you. We'll come and fill your water tanks, reservoirs, and pools. Don't go without water ever again!
CONTACT INFORMATION
Phone: 622-124-1655 (Purified or Alkaline home water delivery)
Address: AWA Purified and Alkaline Water is located on the main street Beltrones Blvd, at the corner of Avenida G (near Thrifty Ice Cream). San Carlos, Sonora, Mexico
Facebook: Purificadora AWA
Days and Times Open: Open Every Day. Monday – Saturday, 8:00am – 7:00pm; Sunday, 8:00am – 1:00pm.