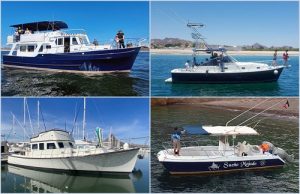 Gabby's has been delivering fun and safe yacht rentals for more than 32 years.
We can do it all…from a few people for a couple of hours to a full day for forty, our quality boats, experienced captains and friendly crew will ensure you have an experience you'll always remember.
Whether it's a wedding party or birthday, sightseeing or sunset cruises, deep sea fishing or snorkeling, we'll help make sure you and your guests enjoy all the spectacular scenery, water and wildlife that San Carlos has to offer.
Now available — Guaymas Bay tours!
Did you know that there are several unique islands in the Guaymas Bay, and hundreds of sea lions just off an unspoiled Catalina beach. Not to mention several arches, caves, dolphin pods, birds, and a lot of history. Gabby's Yacht Rentals are one of only a few charter boats licensed to explore the Guaymas shoreline, islands, and beaches. Park for free at the Fonatur building at the Guaymas Port just past the Three Presidents Plaza and board one of Gabby's Yachts for a memorable 1, 2 or 3 hour tour.
Gabby's Yacht Rentals has several luxury Yachts for you to choose from, depending on your needs and budget:
* Sueño Grande: 52 foot motor yacht with multiple decks; the crown jewel of our fleet. Max 25 people.
* Sassy Lady: 34 foot Mainship motor yacht, Max 8 people.
* Sueño Mojado: 29 foot open-water sea catamaran; perfect for smaller groups with limited time or budget. Max 6 people. Currently in Guaymas.
* Mar Azul: Max 26 people. Currently in Guaymas.
* Leda II: Max 12 people. Currently in Guaymas.
Our yachts are fully equipped for parties, sport fishing (with gear and electronic fish finders), and cruising the beautiful islands around San Carlos. They include restrooms, sun shade, safety equipment, modern VHF radio & GPS navigation, and comfortable chairs. Some even have sleeping berths.
Contact Us:
Gabby's Yacht Rentals has a storefront location in the corner unit at Marina San Carlos. Come on in to make your reservation, or contact us:
Office Hours: Monday – Sunday, 8am – 8pm.
Office Tel: 622-688-1906
WhatsApp/Cell: 622-125-1875
Facebook: Yates De Renta Gabbys
Website: gabbysyachtrental.com
Email: gabby@gabbysyachtrental.com