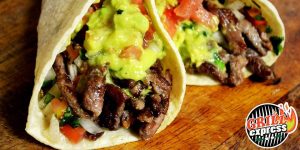 Check us out — the best Carne Asada in town!
If you're in the mood for some delicious Carne Asada or grilled Chicken, then head over to Grill Express San Carlos. Using the best cuts from the beef capital of Mexico, Grill Express San Carlos' specialty is grilled meat as well as delicious grilled chicken.
Choose from individual packages, or packages to feed 2 or more hungry people. Your order includes everything you need for a traditional Mexican taco – salsa tatemada, refried beans, fresh tortillas and a drink. You can add other sides as well, such as pico de gallo, guacamole, grilled onions, peppers and more.
Order in or "to go". This is a great option for Take Out food in San Carlos. We'll have your order ready within 5 minutes!
Located on the main street, Tetakawi Blvd., between the Hair of the Dog restaurant and the car wash, you can enjoy the indoor, air-conditioned seating, or you can relax on the outdoor patio. This is the 4th Grill Express restaurant – they are family owned, with 2 popular restaurants in Guaymas and 1 in Empalme. The owner Omar is bilingual and the staff is learning to speak English too.
Wednesday Food Special: Receive a FREE order of guacamole with your order if you mention you saw this ad on What's Up San Carlos!
With both indoor and outdoor seating, we are ready for your group, large or small. Come inside to cool off in our air-conditioned restaurant and watch your favorite games on our big-screen TV. We also have FREE WI-FI and plenty of free parking along the front of the restaurant. You can bring in your own beer to enjoy with your mouth-watering tacos. We accept credit and debit cards for payment.
Menu (click to enlarge)

Contact Us
Phone: 622-132-1000. Call for your "Take Out" order.
Address: Tetakawi Blvd, #141 Sector Creston (main street between the Hair of the Dog restaurant and the car wash), San Carlos, Sonora, Mexico
Facebook: Grill Express San Carlos
Days & Times Open (hours of operation): Open Sunday, Monday, Wednesday and Thursday from 9:00am – 5:30pm; Friday & Saturday from 9:00am – 10:00pm. Closed on Tuesday.
We have FREE WI-FI and we do "Take-Out".