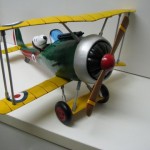 If you've been to an Art Show in San Carlos over the past few years, you'll have discovered that we have some amazing painters among us. But, have you seen art creations made out of gourds?!  Yes, you read that correctly. Those unusual vegetables that make their way onto the dinner table display at your annual Thanksgiving party are not just for the palate anymore.
With his own palette of colors, Jim Garwood has managed to turn these same gourds into whimsical and beautiful pieces of art, as you can see in the photos.   
The gourds Jim uses are purchased at a ranch north of Tucson called Wuertz Gourd Farm. They come in all shapes and sizes, which makes the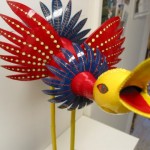 artwork that much more interesting. Jim creates his own imaginative designs himself – first on paper, and then he cuts the pieces, paints and glues. He uses special brushes, spray and then fabric paint, and special glues to hold it all together. His designs are very intricate, and all of the painting is done by hand, even the hundreds of dots that add life to the work. You can see the care and love put into every piece. Most pieces take over 50 hours of labor to complete.
Many of the whimsical pieces are familiar characters, such as Don Quixote, Snoopy, Roadrunner, and there is even a self-portrait of Jim as the Commodore of the San Carlos Yacht Club many years ago. When Jim lived in California, he knew Charles Schulz, the writer and illustrator of the famous Peanuts cartoon strips. This friendship may be part of the reason for the quirky, fun and colorful designs that Jim chooses.
Jim likes most forms of art, but says that Rembrandt is his favorite artist. What inspires Jim is creating something that might be considered new and different. He started this particular craftwork about 8 years ago. He saw birdhouses in the US made of gourds, and decided that he could do something even better. He likes to choose ideas or themes that will make people smile, and he loves to see people's reactions when they look at his work.
As an artist, Jim has worked in various media including mural painting, rock painting, and charcoal drawing. Recalling his high school days as a hobbyist in mechanical drawing, Jim has always had a knack for creativity and drawing. His creativity has now evolved to decorating gourds. I was surprised to learn that there are over 180 Gourd Societies in the US, and we are lucky to have our own gourd artist right here in our backyard. Jim would be happy to show you his studio and explain his gourd decorating process if you are interested in trying your hand at a new creative skill.
Jim has lived in San Carlos for 20 years, and his artwork has been on display in many shows over the years. It will be on display again this weekend at An Affair to Remember, starting on Friday at the San Carlos Marina. Be sure to see what wonderful and unique pieces of art he has created for your enjoyment.
Jim passed away in 2020, RIP.