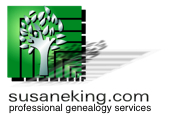 As a professional genealogy researcher and family legacy historian, Susan has over 30 years experience in the field and has worked with corporate clients such as Ancestry.com, the National Institute of Health and the Public Trustee for the Australian Capital Territory. She was the founder of one of the first internet sites for genealogy starting with a bulletin board service in 1986 and has traveled the world in her work and has colleagues throughout Europe and Eastern Europe. Susan has spent her first winter in San Carlos and will be back next year, traveling north in the summers. Susan's expertise is in immigration to the US and Canada, breaking down brick walls, heirship and putting together family heirlooms and histories in book form or interactive websites. If boxes of family pictures and records are in your possession, Susan is available to work with you to digitize the information and put it into a format that can be passed on to future generations. She is available as a consultant or for a turnkey a project. When not working in genealogy, you can find Susan out and about San Carlos playing the steel drums.
Phone: 2819360333
Address: Totonaka in San Carlos and League City, Texas in the United States
Website: http://www.susaneking.com
Email sking@susaneking.com
Days & Times Open (hours of operation): Available by appointment in San Carlos through April 10th. Mexico cell 622-101-4453. Also available by phone 365 days a year.
Rate susaneking.com – Professional Genealogist and Legacy Family Historian & Leave a Comment: