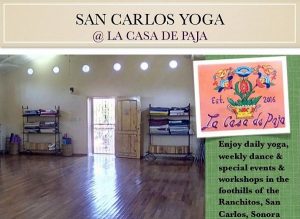 Come enjoy yoga at the new studio, La Casa de Paja; it's beautiful, peaceful, and fully equipped.
Yoga will help you move, breath and feel better. It can be an effective healing practice for issues such as diabetes, arthritis, high blood pressure, anxiety/depression, to name just a few. In each class you will stretch and strengthen your body in a fun, challenging and peaceful environment. No yoga experience is necessary.
La Casa de Paja is a fully-equipped wood-floor studio located at the foothills of the mountains in the Ranchitos neighborhood of San Carlos. Take the paved Ranchitos road between Extra and Telmex. Stay on the paved road until you reach a stop sign. Turn right at the stop sign. Drive 3 blocks and turn left. The studio is at the end of block, on the left side. Avenida I #744. Park on the mountain side of the studio. See map below.
*Yoga at La Casa de Paja is $5 USD or 100 pesos. Walk-ins welcome at same rate.
2019 Schedule (January 7 to the end of March, 2019):
Welcome to the New Year. La Casa de Paja begins its Winter Schedule on Monday, January 7, 2019.
Start the New Year by taking good care of your body & mind. We offer a variety of Yoga classes, Tai Chi, and Dance. We have 7 teachers ready to serve you.
Contact: Please call or email with your questions. Kathy Bereza 226-0119, kathybereza@hotmail.com
Class Descriptions:
Directions to La Casa de Paja:
Yoga or Meditation Workshops, 2019:
January 19: Explore your Neck & Shoulders and Restore your Posture 10 am-1pm with Jaimie Perkunas. This workshop will include techniques to help bring a natural curve in the neck, release tension and stress in the upper traps, and open the chest and shoulder safely.
January 20: Open Your Hips and Strengthen your Knees 10 am-1pm with Jaimie Perkunas. Students will learn proper techniques to opening their hip and knee muscles and also recommendations of poses to avoid if a student has knee injuries. This class is appropriate for beginners or seasoned yoga students.
February 22, 23 & 24: 10-hr Gentle Somatic Yoga Workshop with Leslie Young, $150 USD
March 15, 16 & 17: Therapeutic & Classic Iyengar Yoga Workshop with Deborah Bristow, $150 USD
February 2, March 2, and April 6: Kirtan Sacred Chanting at dusk with Cherie Althauser, free, bring snack
About Kathy
Kathy Bereza is a 200-hr Kripalu Yoga Certified Instructor. She is a full time resident of San Carlos since 2007. She holds a Bachelor of Science from the University of Michigan
and earned her yoga certification from The Kripalu Center for Yoga and Health. She enjoys yoga for its positive health benefits
to mind and body. Feel free to contact her with questions.
In-Studio or In-Home Private (Individual or Group) Sessions Available
Contact Kathy at: 226-0119 or kathybereza@hotmail.com.