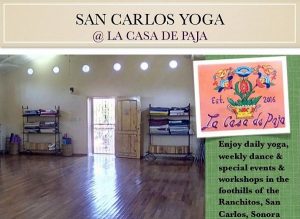 Come enjoy yoga at the new studio, La Casa de Paja; it's beautiful, peaceful, and fully equipped.
Yoga will help you move, breath and feel better. It can be an effective healing practice for issues such as diabetes, arthritis, high blood pressure, anxiety/depression, to name just a few. In each class you will stretch and strengthen your body in a fun, challenging and peaceful environment. No yoga experience is necessary.
La Casa de Paja is a fully-equipped wood-floor studio located at the foothills of the mountains in the Ranchitos neighborhood of San Carlos. Take the paved Ranchitos road between Extra and Telmex. Stay on the paved road until you reach a stop sign. Turn right at the stop sign. Drive 3 blocks and turn left. The studio is at the end of block, on the left side. Avenida I #744. Park on the mountain side of the studio. See map below.
*Yoga at La Casa de Paja is $5 USD or 100 pesos. Walk-ins welcome at same rate.
2019 Summer Schedule
Ready, Set, Dance for Kids begins Monday, September 9 at La Casa de Paja
Calling all kids from 3-12 years old to this 10-week fall cycle of classes. There are two dance groups: Dance Kids (3-5 years old) & Dance Juniors (6-12 years old). Also, Gymnastics every two Modays for kids 3-12 years old. Gymnastics is included for the Dance Kids & Dance Juniors, or kids can drop-in just for gymnastics or dance. For those local families you know, please encourage them to join. It's a wonderful after-school opportunity for kids.
The Dance Juniors (6-12 year olds) are Mondays & Wednesday from 4:00-4:50 pm, advancing in Jazz Dance, Gymnastics for dancers, and Ballet. Mondays will alternate between Jazz & Gymnastics, Wednesdays will be Ballet. The teacher is Fabian Valdez, owner of U-Beat Dance Studio in Miramar. We're lucky to have this talented, professional teacher come to San Carlos to give classes!
From 5-5:30 pm, the Dance Kids (3-5 year olds) will be with Michelle Duvall, Director and lead instructor of Ready, Set, Dance. Michelle expertly guides kids into Jazz Dance, learning the building blocks of dance though fun games & age appropriate activities. Michelle is also Director of Las Adictas al Baile and her creative choreography can be enjoyed at many local charity events. The kids will also have Gymnastics for dance every other Monday, in place of dance.
Paola Guerrero will lead both groups of kids in Gymnastics on every other Monday, as a drop-in option, or as part of Dance Kids or Dance Juniors program. She is the Gymnastic Dance instructor at U-Beat Studio and we're honored that she's bringing her fun classes to San Carlos.
Dance Kids and Dance Juniors runs for 10-weeks, beginning Monday, September 9 through November 13. The cost is $1,000 pesos, or $60 pesos drop-in for any class, dance or gymnastics. The 10-week cycle ends with a performance in the dance show "Rewind" on November 16 at the Guaymas Municipal Auditorium. Another Michelle' Duvall creation not to be missed! Get your tickets early.
Call or What's App Michelle at 622.123.4939 for more information on the Ready, Set, Dance program.
Contact: Please call or email with your questions. Kathy Bereza 226-0119, kathybereza@hotmail.com
Directions to La Casa de Paja:
Yoga or Meditation Workshops, 2019:
February 22, 23 & 24: 10-hr Gentle Somatic Yoga Workshop with Leslie Young, $150 USD
During this 10 hour Gentle Somatic Yoga Workshop "Mindful Movement", change your body by changing your brain. Gentle Somatic Yoga is a transformative and restorative movement practice that helps reduce pain and calms the nervous system. This workshop includes practices of stillness & meditation, mindful movements, breathing practices as well as energizing movements and strength building postures. True balance comes from well rounded practices that both differentiate and integrate all aspects of our being. Leslie Young mountainyoga.ca. Leslie will be in town for some time before and after the workshop, so if you'd like to schedule a private session with her, e-mail her directly at leslieyoga@gmail.com.
Times:
Friday, February 22: 3:00pm – 5:30pm.
Saturday, February 23: 9:00am – 11:30am & 3:00pm – 5:30pm.
Sunday, February 24: 9:00am – 11:30am.
Cost: $150 USD or peso equivalent
50% payment for the Somatic Workshop and/or the Embodied Wisdom yoga philosophy session are due by Friday, February, 8. Please call 226-0119 or e-mail: kathybereza@hotmail.com to register and schedule payment. Deposit can be made at La Casa de Paja between regular weekday classes or by prior arrangement.
Sunday, February 24: "Embodied Wisdom"
A deeper look at practice and non-attachment. Reflection and discussion of Yoga philosophy and paths of freedom.
Date & Time: Sunday, February 24, 3:00pm – 5:00pm.
Cost: $35 USD or peso equivalent.
50% payment due by Friday, February 8. Call 226-0119 or e-mail kathybereza@hotmail.com to register.
Kirtan, Divine Chanting on Sunday, February 24
Kirtan, Divine Chanting on Sunday, February 24 at 5:30pm (the February 5 Kirtan has been rescheduled to February 24). Free, no charge. More info. Check La Casa de Paja's schedule here to learn more about this event, as well as checking the regular Yoga, Dance, and Tai Chi schedule. The Kirtan evening will coincide with the end of the gentle yoga workshop & philosophy discussion. Kirtan, group chanting, is a very simple & powerful way to meditate. It's effortless & joyful: the music does the work for you as you flow with the melody & rhythm. Singing is the heart of Kirtan and NO ONE cares what you sound like. At Kirtan, all voices merge together to become One Voice.
March 2, and April 6: Kirtan Sacred Chanting at dusk with Cherie Althauser, free, bring snack
March 15, 16 & 17: Therapeutic & Classic Iyengar Yoga Workshop with Deborah Bristow, $150 USD
Deborah Bristow is returning for her 20th year to give a 10-hour Iyengar Yoga Workshop, which will focus on common ailments of aging. Beginners are encouraged to attend, you will learn proper alignment in poses. This is a wonderful opportunity: Deborah taught for nearly 40 years and has completed advanced yoga trainings and studied multiple times in India with B.K.S Iyengar & family. Please contact me with any questions & to reserve your space.
The schedule is:
Friday, March 15: 9-11:30 am & 3-5:30 pm
Saturday, March 16: 9-11:30 am & 3-5:30 pm
Sunday, March 17: 9-11:30 am
Price: $150 USD or 3,000 pesos (50% deposit by Mar 11)
My studio, Casa de Paja, is fully equipped & it's a beautiful space for quiet contemplation & yoga (click for map). I hope to see you for the workshop.
Call 226-0119 or write to kathybereza@hotmail.com to register.
About Kathy
Kathy Bereza is a 200-hr Kripalu Yoga Certified Instructor. She is a full time resident of San Carlos since 2007. She holds a Bachelor of Science from the University of Michigan
and earned her yoga certification from The Kripalu Center for Yoga and Health. She enjoys yoga for its positive health benefits
to mind and body. Feel free to contact her with questions.
In-Studio or In-Home Private (Individual or Group) Sessions Available
Contact Kathy at: 226-0119 or kathybereza@hotmail.com.