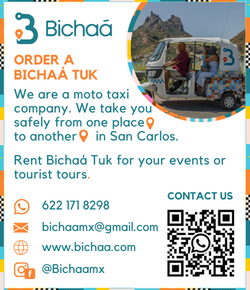 Finally in San Carlos, Bichaá Tuk services, a motorized rickshaw taxi that can safely take you anywhere you want to go in San Carlos.
With a capacity of 3 passengers, you and your friends & family can take this unique and fun mode of transportation to any location, restaurant or to check out all the sights in San Carlos.
Want to take your visitors to the Mirador look-out? Why not take Bichaá Tuk — what a great way to experience the ride and the views along the way! You can even connect to their Bluetooth speaker to hear your favorite music along the way.
Here are the 4 easy steps to order Bichaá Tuk:
1. Send us a WhatsApp Message to 622-171-8298
2. We pick you up at your location
3. We guarantee you a safe and panoramic ride
4. We drop you off at your final destination
Bichaá Tuk can pick up you up from any place in San Carlos — home, office, hotel, or restaurant. There are flat fees for sectors in San Carlos, and you simply pay the driver for the ride.
Bichaá Tuk is also available to rent for several hours, for the day, for events, and for private tourist tours around our beautiful and panoramic town.
Order Bichaá Tuk by sending a WhatsApp Message or a call to 622-171-8298
Email: bichaamx@gmail.com
Visit our website: bichaa.com