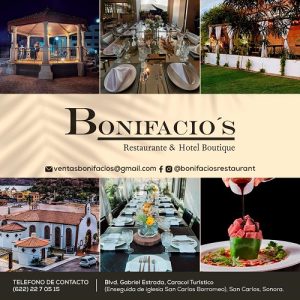 Bonifacio's Restaurant is located in town, next to the San Carlos Borromeo Catholic church and the main square's kiosk.
Bonifacio's offers an eclectic fusion cuisine inspired in Mexico. Our restaurant features exquisite dining with breakfast (served from 7:00am – 2:00pm daily), lunch and dinner menus full of creative gourmet dishes including the freshest seafood, meat, chicken, and vegetarian meals. For lunch, try our best-in-town Bonifacio's hamburger & fries, the Santa Fe grilled chicken burger, or our popular beef tenderloin tacos.
For dinner, experience the elegance of our indoor dining. Start with one of our many International appetizers such as our tasty flatbreads, tapas, stuffed dates, and more. As an entrée for seafood lovers, you must try our Teriyaki seared Tuna with mango, or our popular Hibiscus Flower Shrimp Crown and rice. Meat lovers can enjoy several Beef and Pork Ribeye and Tenderloin specialties, cooked to perfection. We also serve many chicken dishes including a Roasted Grilled Chicken Breast over garlic mashers.
And don't forget to order a delicious caramel crepe with vanilla ice cream for dessert. Whichever meal you choose, it is sure to delight your taste buds!
The bar is fully stocked with a wine and water cellar. Our restaurant boasts excellent views of the main square, Tetakawi mountain, and the San Carlos marina. Our friendly staff is bilingual and ready to serve you. We have plenty of free parking behind the restaurant and also by the church.
We encourage you to bring in your freshly caught fish and we will prepare it several ways, and include sides. The cost is 200 pesos / person. Ask us for details.
Watch this video (in Spanish) where Bonifacio's owner, Francisco Torres, is interviewed by Tribuna Mexico at the restaurant's Grand Opening last month. The video is accompanied by this article.
Menus (click to enlarge)
Breakfast & Lunch menus
Entertainment this week
Check the weekly whatsupsancarlos newsletter for up-to-date entertainment.
Catering & Event Planning
Enjoy your special event at Bonifacio's. We have indoor and outdoor seating for over 150 guests, so you can create memories here that will last a lifetime. We offer catering for your special evening in San Carlos. We have an event planner available at your service for your special event, party, anniversary or celebration.
Are you getting married? We specialize in Destination Weddings with fancy receptions, dining, and dancing. Come and celebrate your special day with us. We can help you make all the arrangements to make this the most memorable day ever. Contact us for details.
Your Posada at Bonifacios
Contact Us
Phone: 622-227-0515 (restaurant) or 622-109-0031 (cell or WhatsApp) or 622-182-6076 (Manager) for reservations or for your "Take Out" order.
Address: Blvd. Gabriela Estrada, by the San Carlos Borromeo Catholic church, San Carlos, Sonora, Mexico.
Email: ventasbonifacios@gmail.com
Facebook: Bonifacio's Cotton Club
Instagram: Bonifacios Restaurant
Days & Times Open (hours of operation): Open Every Day! Sunday – Thursday from 7am – 11pm. Friday and Saturday from 7am – 2am.