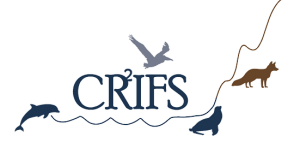 Centro de Rescate, Rehabilitación e Investigación de Fauna Silvestre (CRRIFS) is a non-profit organization, with the purpose of rescuing wild animals from risky, sick or injured situations. Located in Guaymas, Sonora. Mexico.
Dr. Elsa Coria Galindo, her husband, Janitizio, and Sergio Andrade, formed CRRIFS in 2007. She has done a great deal of work with many different species but Susan Canale urged her in 2017 to become involved with local turtle monitoring as more and more nests were being discovered on San Carlos' beaches. She has since done training for the Grupo Tortuguero network.
Contact CCRIF:
Tel: 622-221-1731 | Cel: 622-152-9934
Email: crrifs@gmail.com
Follow CCRIFS on Facebook: CCRIFS
Website: crrifs
SBPA's Altered Tails Book Shoppe & CRRIFS gift shop are open Wednesday through Sunday from 10:00am – 2:00pm. The Shoppe is located in Marina San Carlos and validates parking. Learn more about SBPA (providing spay & neuter services for local animals) and CRRIFS (our local turtle conservation program). Please help support SBPA and CRRIFS by shopping here for books, calendars and turtle and wildlife items.
An interview of Dr. Elsa Coria Galindo, by Tamara Banar: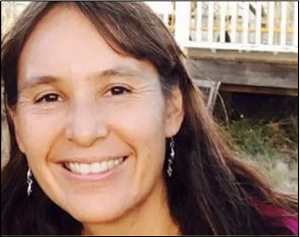 "Why do you want to be a veterinarian? No one will pay you to take care of wild animals!"
"And it's true," Dr. Elsa Coria Galindo laughs, as she reflects on her parents' alarm when she first told them, as soon as she could walk and talk, that she wanted to be a wildlife vet. She recalls all of the injured animals that she and her husband have cared for from their Guaymas home over the last two decades — a grand total of more than 40 birds, 15 sea turtles and 4 sea lions — all of which they've supported out of their own pockets with food, medicines and, when needed, even x-rays.
As the only veterinarian in Sonora working in wild animal rehabilitation in a non-profit capacity and the only veterinarian supporting the sea turtle and marine mammal stranding network for PROFEPA in the State, it is challenging at times to also raise their own children, ages 7 and 10. But Elsa is unwavering in her passion for wildlife conservation.
Inspired by the popular 1960's TV series, Daktari (Swahili for 'doctor'), about a vet stationed at a fictitious animal center in East Africa, Elsa has never hesitated in pursuing her dreams. A native of Mexico City, she met her husband, marine biologist Dr. Janitzio Egido Villarreal, when they were fellow competitors on the National Autonomous University of México (UNAM) gymnastics team. Janitzio was a few years ahead of her in school, and he'd already spent some time studying marine mammals in the Gulf of California. So when Elsa was preparing for her thesis in veterinary medicine and zootechnics, Janitzio encouraged her to relocate to Guaymas and work with the man who would eventually become her mentor, Dr. Juan Pablo Gallo Reynoso.
She soon discovered that, while a number of biologists were engaged in fieldwork in the Sea of Cortez, there were no trained veterinarians on the research teams who could offer a medical perspective on the overall health and well being of the wildlife nor could they provide proper rehabilitation services.
Elsa quickly distinguished herself as an expert on sea lions on Sonora's islands. She went on to work with the National Commission of Natural Protected Areas (CONANP), and later collaborated with a number of international partners, studying California sea lions, dolphin, sperm whales, Guadalupe fur seals and elephant seals and assisting with occasional marine mammal strandings and treatment of injured sea birds and turtles.
However, it was during her tenure as a consulting vet with the Delfinario Sonora between 2007 and 2011 that she, Janitzio and her colleague, dolphin trainer Sergio Andrade, came up with the idea of establishing a Center for Wildlife Rescue, Rehabilitation and Research (CRRIFS) — the first of its kind in Sonora or Sinaloa. Their ideas coalesced following a stint in Italy where Janitzio was working on his PhD, and they had the opportunity to interact with the Sea Turtle Research Center in Naples, where researchers were pioneering surgical techniques for dealing with turtles which had ingested plastics after mistaking them for jellyfish, become entangled in fishing lines or developed fibropapillomas.
Elsa went on to complete a prestigious 3-month International Veterinarian in Residence Program in 2017 at the Marine Mammal Center in Sausalito, California, a group with whom she is continuing to collaborate on introducing new techniques for sea lion disentanglement and rescue in Sonoran waters.
Then in 2017, CRRIFS began working with Grupo Tortuguero de las Californias, a Mexican conservation network affiliated with the Ocean Foundation; its aim is to monitor and rescue sea turtles along the Pacific coast and in the Sea of Cortez. Last year, in her capacity as director of CRRIFS, Elsa organized the first of two trainings for local volunteers on how to identify and protect nests on San Carlos' beaches and how to monitor turtles in local waters.
Watch for articles in the coming weeks on CRRIFS' fledgling programs to protect sea turtles and sea lions in the Sea of Cortez; the plans afoot to build a physical center in San Carlos devoted to wildlife rescue, rehabilition, research and education; and how you can become involved in saving wildlife in our area.
Singing the Songs of the Sea Turtles:  The Turtle Patrol Comes to San Carlos
The Seris of Isla Tiburón near Bahía Kino have songs they sing to call to the sea turtles, which are sacred creatures in their oral histories.  But until recently seeing actual sea turtle nests on beaches farther north than Mazatlán was relatively rare.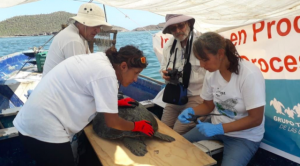 For the last decade, however, anecdotal reports throughout the Sea of Cortez point to more and more nests being laid north of Sinaloa.  Scientists are uncertain why this might be, but the suspicion is that it's an effect of global warming. Wildlife veterinarian Dr. Elsa Coria Galindo further speculates that "it could even be a positive effect of conservation efforts…maybe we have more nesting turtles."
This would be welcome news in contrast to three years ago when retired nurse Susan Canale was beachcombing on Playa San Francisco and stumbled upon Olive Ridley hatchlings that had perished from exhaustion and dehydration when they were unable to climb out of deep ATV ruts on the beach.
Appalled by her discovery, Susan began exploring what could be done to prevent future tragedies. She enlisted Rob and Karen Perry to help her patrol the beach, sometimes as often as three times a day to document nests and monitor hatchings.  Guaymas physician Dr. Daniel Castro, and his wife, Dulce Arce, told her that after volunteering at a turtle sanctuary in Costa Rica they were eager to start a similar protection program here.
Daniel was able to put Susan in touch with Elsa.  In turn, Elsa knew about the work of Grupo Tortuguero de Las Californias, a nonprofit network based in La Paz of more than 40 Mexican communities and 8 countries.  Since 1999 they'd been collecting data on the total  population sizes, distribution, health, genetics and characteristics of the seven different sea turtle species.  Six of these species are found in Mexican waters, and all of them are considered endangered from poaching, loss of foraging grounds and nesting habitats, accidental entanglements in fishing nets and lines, ocean pollution and climate change.
Elsa contacted Karen Oceguera Camacho, Grupo Tortuguero's executive director, and Karen helped organize a workshop in July 2018, to prepare the first cohort of volunteers to patrol Guaymas' beaches and conduct tagging and monitoring of turtles at sea.
Barracuda Bob's owner and former Yacht Club commodore Jan Rains, Castaway Kids board members Lindy Watts and Charles Roach, long-time turtle enthusiasts, and marine biologist Bill Graham offered their logistical support.  More than 75 volunteers took part in a three-day training that led to volunteers' certification to work with Elsa under the umbrella and federal permits of Grupo Tortuguero.
A second training offered this last May proved equally popular, and now the 'Turtle Team' walks Playas Miramar, San Francisco, Piedras Pintas and Algodones each morning at sunrise looking for evidence of tracks and nests.  When nests are positively identified, data including species, date of laying, location, ambient temperature and humidity are collected, and the nests are checked until the anticipated hatching date, generally 45-70 days later for our most frequent visitor— the Olive Ridley (Lepidochelys olivacea)—known in Spanish as the tortuga golfina.
In August of this year Elsa received a long-awaited permit from SEMARNAT, the Secretariat of Environment and Natural Resources, authorizing her to conduct sea turtle research and to make decisions regarding the best approaches for conserving nests and for emergency relocation of nests, if needed.
How You can Help:
During the height of San Carlos sea turtle nesting season from August to December, you can help research and protection efforts by spreading the word:
 Be careful where you walk so as not to disturb tracks or accidentally step on hatchlings;
 Do not interrupt the crawl to or from the sea or the nesting process;
 Dispose of trash properly (particularly any kind of plastic, which can be mistaken for favorite turtle foods such as jellyfish and can be swallowed creating severe problems for turtle breathing, buoyancy and digestion);
 Keep motorized vehicles off the beaches and fill in holes and remove obstacles; and
 Turn out lights at night that might confuse the turtles who depend on the moon's reflected light on the waves to orient themselves.
If you see turtles or turtle tracks, please call 662-161-0843 or 622-152-9934 to report the location to Elsa and her team.
Learn more about the sea turtles by checking out the Grupo Tortuguero website at www.grupotortuguero.org  and watch What's Up San Carlos for announcements of our next volunteer training workshops.
Thank you for your efforts to save these ancient mariners!
Tracking the Ridleys: The World's Smallest Sea Turtles
Turtle nesting season in San Carlos is reaching its peak in the next two weeks and hatching in the next two months.  Local wildlife veterinarian Elsa Coria Galindo, director of CRRIFS and coordinator for Grupo Tortuguero Guaymas, cautions to be particularly attentive for signs of turtle activity.
"The turtles coming ashore now are mostly olive ridley," Elsa notes, and they have been laying at Playas Miramar, San Francisco, Piedras Pintas, Algodones and La Manga since June this year.
Measuring ~55-80 cm. (2-2 ½ feet) in length and weighing up to 50 kilos (110 lbs.), the ridleys are one of the sea turtles known to nest en masse in arribadas ("arrivals"), where as many as 90,000 females may come ashore simultaneously in an evolutionary adaptation known as "predator swamping."
"But some turtles prefer to nest alone, which is what we see in our area," Elsa observes.
The whole nesting process can take up to an hour, with a female lumbering ashore late at night looking for a spot with well-drained sand, ideally above the high tide line; however, she'll nest where she can.
Using her rear flippers, she'll dig a bulb-shaped chamber at least 45 cm. (18 in.) deep, deposit her eggs, cover and conceal the nest and return to the sea.  If frightened by noise, lights or movement, she may crawl away without laying, looking for another opportunity to come ashore when the conditions are more opportune.
Nesting is the only time during the female ridley's long lifespan (50-80+ years) that she'll come ashore; ridley males will spend their entire lives at sea, which is where mating takes place.
Females can mate with multiple partners and store the sperm until they're ready to fertilize the eggs.  They then lay 1-3 clutches of between 80-120 eggs each over 30 days.
If you see turtles or turtle tracks, please call 662-161-0843 or 622-152-9934 to report the location to Elsa and her team.
Learning from Baby Sea Turtles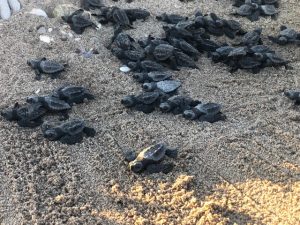 In the next two months, says Dr. Elsa Coria Galindo, wildlife veterinarian and director of CRRIFS, we can expect to see fewer adult olive ridleys coming ashore to lay their nests but instead more baby sea turtles hatching.
Sea turtles provide no maternal care for their eggs, so the little aquanauts face a daunting journey making their way from sand to sea.  We can improve their odds of survival to adulthood (currently just 1:1,000) by keeping the beaches free of trash, debris and motorized vehicles; filling in ruts, holes and sand castle moats; being careful where we walk; and reporting tracks and sightings right away to Elsa and her team.  They are the only ones authorized to interact directly with wildlife, and they have been collecting data and monitoring turtle activity as part of long-term research efforts.
Similar to other reptiles, including alligators and crocodiles, the sex of the turtle eggs is determined in the first several weeks of incubation by sand temperatures.  Warmer sands produce more females and cooler sands more males, with the ideal temperature for a 50/50 mix being ~28.5°C (~83.3°F).
After 45-70 days in the nest, when the oxygen level inside the eggs becomes depleted, the hatchlings begin to emerge in a frenzy that has been likened to an erupting volcano, using their collective energy to push aside the sand.
The babies use a small temporary tooth—a caruncle—to break through their shells.  They're nourished during their first few days out of the nest by a yolk sac, an onboard energy pack attached by an umbilical cord; it provides nutrients needed for their epic journeys ahead.
Crawling to the ocean in the wee hours of the morning helps the hatchlings develop their muscle strength and endurance and to magnetically imprint to their natal beach, much as birds are thought to do.  If they are lucky enough to escape predators—raccoons, foxes, crabs, birds and humans—their chances of survival increase dramatically.
Because they are too small for traditional tracking devices, little is known about what happens after they enter the ocean.  This will be a focus of CRRIFS research in collaboration with Europe's largest aquarium & turtle research center.
If you see turtles or turtle tracks, please call 662-161-0843 or 622-152-9934 to report the location to the CRRIFS team.