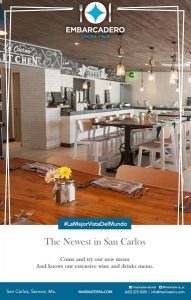 Embarcadero Cocina + Bar at Marinaterra Hotel specializes in fresh and cooked seafood, and Sonora select meat on the grill. They have an extensive choice of wines and cocktails.
Enjoy indoor seating, at the bar and on the patio overlooking Marina San Carlos — with the World's Best View.
A breakfast buffet is served from 7:00am to 1:00pm. From Monday to Friday, there's a special price of 170 pesos for women. The regular cost is 230 pesos. Children are half price.
There is also an à la carte menu.
Daily Drink Promos at the Bar:
Martinis 2 for 90 pesos
Draft beer 2 for 40 pesos
Hours: Open from 7:00am to 11:00pm
Phone: (622) 225-2020 EXT 04
Address: Hotel Marinaterra on the Malecon at Marina San Carlos.
For more information, visit MarinaTerra's Website and Facebook
Margarita Contest Winners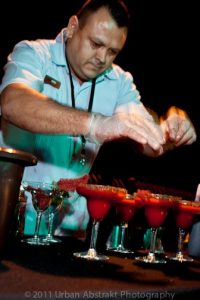 Fourteen mixologists participated in Tucson's sixth annual World Margarita Championship.
The People's Choice award went to Julio Blanco at Marinaterra Hotel & Spa San Carlos, Sonora Mexico, for "Margarita Marinaterra," which played off the traditional margarita with a spicy blend.
The Winning Margarita Recipes …
PEOPLES CHOICE: "Margarita Marinaterra"
Presented by Julio Blanco from the Marinaterra Hotel & SPA San Carlos, Sonora Mexico
Ingredients:
Lemon Juice
Tequila
Orange Liquor
Jamaica concentrate
Chamoy
Tajin Chile
Dry Mango
Mexican Candy
Directions: In a blender add ice, lemon juice, tequila, orange liquor, and all the ingredients, for garnish put a piece of lemon, dry mango and the Mexican candy.
JUDGES CHOICE: "Tamarindo Margarita"
Presented by Mario Rocha of La Fuente Restaurant
Ingredients:
1 tbsp Course salt
chili powder
tamarind pulp
1 tsp sugar
2oz tequila
1oz Grand Marnier
lime juice
orange juice
1 full tamarindo fruit
1 lime wheel
Directions: Boil tamarind fruit. Mix all ingredients and blend also strain out pulp. Add tequila and triple sec. Add chili powder to rim – fill cup with ice and serve
The margarita contest was part of the weekend-long Tucson Culinary Festival. Photo by Rachel Seelen, Urban Abstrakt Photography
Have you eaten at Embarcadero Cocina + Bar? What did you think?