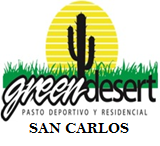 Prepare for this fall and make your garden look green all year long as if it were summer. Install artificial grass and reduce the high cost of water and maintenance of your garden.
the best quality at factory prices. Call us or visit us and say what you need.
* THE BEST QUALITY AT FACTORY PRICES .. *
12 YEAR WARRANTY FOR FACTORY DEFECTS
2 YEAR WARRANTY IN INSTALLATION.
"YOU CAN PROVIDE YOUR OWN DESIGN OR WE CAN HELP YOU MAKE IT HAPPEN".

Phone: 6221160031
Address: MARINA SAN CARLOS INT. 8, , Sonora Mexico 85506
Email greendesertsc@gmail.com
Days & Times Open (hours of operation): MONDAY TO FRIDAY, 8:00 AM TO 5:00 PM
SATURDAY, 10:00 AM TO 1:00 PM