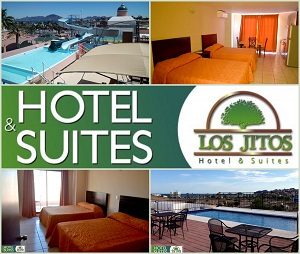 With its 48 rooms and comfortable amenities, Los Jitos Hotel & Suites is ideal for your family vacation or corporate outings.
Just a 5-minute walk to La Posada Beach, Los Jitos Hotel & Suites features an outdoor pool and seating area, a large rooftop water slide, 24-hour reception and free parking.
Rooms at Los Jitos are spacious and have bright, functional decor. Choose from a single, double or suite. Each room includes air conditioning/heating, cable TV, free WIFI, coffee maker, and a private bathroom. Suites include a kitchenette with refrigerator, microwave, electric grill and dishes.
Call today and ask for our current Promotion!
Website: losjitos
Location: Tetakawi Blvd., KM 11. Plaza los Jitos, San Carlos, Sonora
Phone: 622-226-0093, 622-226-1513 and 622-226-1413
Email: araceli.ojeda@losjitos.com.mx
Facebook: Hotel & Suites Los Jitos San Carlos Sonora
Days & Times Open (hours of operation): 24 hour reception
Have you stayed at Los Jitos Hotel? What did you think?