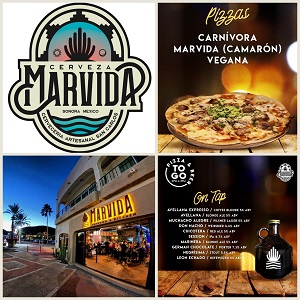 The craft beer revolution finally comes to San Carlos, as the only LOCALLY BREWED craft beer debuts at Marvida Taproom & Kitchen. This is REAL craft beer from kegs (not bottles), and the difference is right there, on your palate. We've got all your favorites: IPAs, Stouts, Hefeweizen, Blonde Ales, and more. Beer flights are available too. Come in often to see what's new on tap at our microbrewery. And if beer is not your beverage of choice, we offer wine and a full bar.
No beer this good can be quaffed without the best food in San Carlos on the side. Whether it's delicious hand-made pizza, tasty burgers including the popular Marvida Shrimp Burger, Chicken Drumsticks, Aguachiles, signature salads and creative side dishes, Marvida's got you covered. For meat lovers and vegans — there's something for everyone on our menu!
We are located at Marina San Carlos, in front of "I" dock. Enjoy the best craft beer AND the best views in town. With both indoor and outdoor seating, you can watch the yachts come in and out of the marina and the sun set while savoring a perfect meal. We are pet-friendly, but please keep Fido outside. Don't worry about the marina parking fee. With your Marvida receipt, you'll be reimbursed your fee when you leave. And remember to check out our cool merchandise for sale.
We have a seating capacity of 110 and we're ready for your group, large or small. Our comfortable outdoor patio provides fabulous views of the marina and Tetakawi. Why not have some fun playing cornhole. Or come inside to cool off in our air-conditioned restaurant, play a game of Jenga, Loteria or Uno, or watch your favorite games on one of our big-screen TVs, .
We also have FREE WI-FI.  Time for a new t-shirt?… check out our merchandise on sale.
Marvida Club
You can now become a Member of Marvida Club, a new beer club! For 2500 pesos a year, you will receive a bunch of perks, including:
* Personalized 24oz Rambler
* Marvida Club Special Edition Cap, and Discounts on our merchandise
* FREE first fill and discounts on refills, plus FREE birthday fill
* Invitations to exclusive events, and more. Sign up today at Marvida Taproom & Kitchen!
Food & Drink Specials
Monday: 2 x 1 Margaritas, all day long.
Tuesday: Taco Tuesday – 45 pesos/taco. Now we have a Vegan options (mushroom and cauliflower tacos)
Thursday: Thirsty Thursday — 3 x 2 house beers and 2 x 1 commercial beers all day long. Wear your favorite football team's jersey and get free snacks.
Saturday and Sunday: Brunch Menu available from 10am – 2pm.
In-room Dining & Take-out Menu (click to enlarge)
Weekend Brunch Menu, 10:00am – 2:00pm & Taco Tuesday Menu
CAUGHT FISH?
From your boat to our kitchen! Our chef will prepare it for you with salad, rice and beans (ask us for details).
Entertainment this week
Check the weekly newsletter for up-to-date entertainment.

Contact Us
Phone: 622-124-1624 or 622-176-0348 (WhatsApp) for reservations or for your "Take Out" order.
Address: Marina San Carlos, in front of "I" dock, San Carlos, Sonora
Facebook: Cerveza Marvida
Days & Times Open (hours of operation): Open Monday, Tuesday and Thursday: noon – 10:00pm; Friday, noon – midnight; Saturday and Sunday, 10:00am – midnight. Closed on Wednesday.
We have FREE WI-FI and we do "Take-Out".