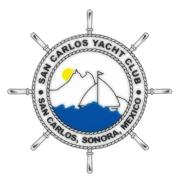 San Carlos' only private Yacht Club, the San Carlos Yacht Club, serving members and guests since the 1980's, is the place to be! With beautiful facilities overlooking the San Carlos marina, members and guests enjoy a variety of weekly activities.
Boating is one of the many activities that brings us together here in San Carlos. No matter whether you are a boating enthusiast, or just love to have fun and share time with one another, we extend a warm welcome to our SCYC family.
Consider joining us for these weekly events:
Wednesday:
Burger & a Movie. The Yacht Club opens at 5:30pm and the movie starts around 6:30pm. Open to the public. Burgers: 100 pesos for members and 200 pesos for the public; Fries: 50 pesos (free for members) & 50 pesos for dessert. Come on over to the Yacht Club and have a great meal and a movie.
Thursday:
Book club – 9:00am
Bridge club – 11:00am
Thursday night dinner with entertainment: The Yacht Club & bar opens at 5:00pm; entertainment starts at 6:00pm; dinner at 6:30pm.
Monday:
Fishing Derby in the morning and Fish Fry at night. Bring your catch to the Club in the afternoon. The Club & bar opens at 5:00pm; dinner at 6:00pm.
We also host Friday evening dinners, Sunday brunches, Tuesday cultural nights and boating seminars.
Sound like fun? For membership requirements and an application, visit our website at San Carlos Yacht Club or contact Luisa, the Club's General Manager at 622-226-0163 or email ycsctreasurer@gmail.com. Not ready to commit but interested in more information, ask about obtaining a "three-day pass" and find out for yourself.
We are located in Marina San Carlos.