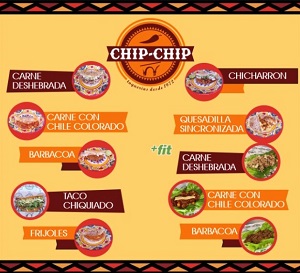 At Taqueria Chip-Chip, you can savor the tastes of homemade Mexican food.
Since 1972, our family-owned business has fed hungry families in Guaymas and in Tucson, USA. Now we have expanded and are ready to serve the San Carlos population.
We have a selection of both meat and pork tacos and quesadillas. Our flavorful taco options include Shredded beef (carne deshebrada) with potatoes, Barbecue (barbacoa), beef and potatoes spiced with Chile Colorado (red chili), and refried bean tacos. We also have pork tacos spiced with red salsa. And Quesadilla Sincronizada with meat, refried beans, and cheese or one with chorizo, beans and cheese.
Choose from individual tacos and quesadillas, or grab a Combo package made up of 2 beef tacos, one refried bean taco, and a bottle of water. We have both corn and flour tortillas. Choose a healthier option with a lettuce wrap instead of a tortilla.
Order in or "to go". This is a great option for Take Out food in San Carlos. We'll have your order ready within a few minutes!
Having a meeting, potluck, or "appie" party? Why not bring a platter of our tasty traditional Mexican tacos with all the fixings. This is sure to be a hit for any special occasion.
Taqueria Chip-Chip is located on Tetakawi Blvd (main street) beside El Cheque hot dog, in the same plaza as El Pollo Lopez (rotisserie chicken place). You can enjoy our seating indoors, or relax on the outdoor patio. Our bilingual staff is happy to serve you!
If you are in Guaymas, then enjoy our delicious food at our Taqueria Chip-Chip restaurant across from the Tufesa bus station or in Colonia Petrolera.
Weekly Food Specials:
Check the weekly What's Up San Carlos newsletter for up-to-date Weekly Food Specials at Taqueria Chip-Chip.
Menu (coming soon)
Contact Us
Phone: 622-111-0155 for your "Take Out" order.
Address: Tetakawi Blvd, #58 N DS, Sector Creston (main street beside El Cheque hot dog, in the same plaza as El Pollo Lopez).
Facebook: Taqueria Chip-Chip 
Days & Times Open (hours of operation): Open Monday, Wednesday, Thursday and Friday from 8am – 4pm; Saturday and Sunday from 8am – 3pm. Closed on Tuesday.
We do "Take-Out".