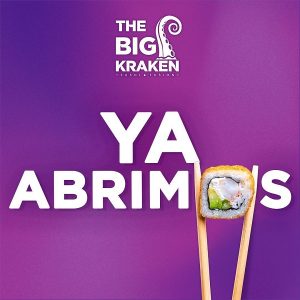 The Big Kraken is now open in San Carlos!
Just look for the building with the purple octopus on it, and you will have discovered The Big Kraken — your soon-to-be favorite restaurant serving Sushi – Fusion. The restaurant is owned by Toño Contreras, the same owner as El Rey Express in San Carlos and Mariscos El Rey in Guaymas (soon to also open here in San Carlos). Toño's family has been in the food service business for over 60 years, so he knows what it takes to make your restaurant experience exceptional.
We are an innovative restaurant that fuses the unique flavor of our Mexican-style sushi with wings, boneless and French fries.
Here you will find dozens of sushi roll options with seafood, beef, chicken, or a combination of all three that your heart and taste buds desire.
Combine this with an order of onion rings, fries, cheese sticks, or chicken wings. We serve ice tea, sodas, water, and flavored water. Feel free to bring your own beer or other alcoholic beverage to enjoy with your meal – there is no corkage fee.
Join us at our comfortable and covered outdoor seating area for over 90 people, or order your sushi To Go…your meal will come out quickly and freshly prepared just for you. We also deliver right to your doorstep for a nominal fee (30 pesos in San Carlos; 50 pesos in Ranchitos and Marina Real area & beyond).
We also rent bikes for 70 pesos per hour, and service bikes as well. Give us a call at 622-137-2000 for more details.
The Big Kraken is located on Tetakawi Blvd our main street across from the ARCO gas station. Our friendly staff is happy to serve you.
Food Special: Sushi + Iced Tea for 98 pesos (California Roll, with shrimp, chicken, or beef)
Weekly Food Specials:
Check the weekly What's Up San Carlos newsletter for up-to-date Weekly Food Specials at The Big Kraken.
Menu (click to enlarge)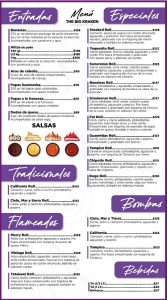 Contact Us
Phone: 622-137-2000 (cell or WhatsApp) for your "Take Out" or Delivery order.
Address: Blvd Tetakawi, Col. El Creston. (located on the main street — look for the Purple Octopus on the roof, across from the ARCO gas station).
Facebook: The Big Kraken
Website: thebigkraken.com
Days & Times Open (hours of operation): Open Every Day! Sunday – Thursday, noon – 9:00pm; Friday – Saturday, noon – 11:00pm.
We do "Take-Out" and we Deliver. Cost for delivery is 30 pesos (in town), and 50 pesos (Ranchitos, and by Marina Real area and beyond).