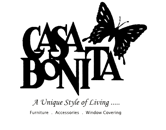 Casa Bonita Home Furnishings is the first furniture store established in San Carlos Nuevo Guaymas. We provide a great variety of high quality products.
You'll find the most unique pieces at a very reasonable price. Bedrooms, dining rooms, living rooms, accessories, Mexican curious, mattresses, window coverage & carpets.
Our team will be glad to help you in satisfying all your needs in regards to your new home's decoration.
Interior design service available.
Phone: 622-226-0848
Address: Tetakawi Blvd., KM 11 Col. Country Club , San Carlos , Sonora Mexico 85506
Email info@cbonita.com
Days & Times Open (hours of operation): Monday – Friday : 9:30 AM – 5:00 PM
Saturday : 9:30 AM – 3:00 PM
Rate Casa Bonita & Leave a Comment: