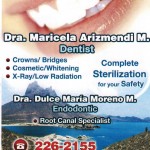 Dentist Maricela Arizmendi: dental team in San Carlos, Sonora Mexico. North of the Border dental equipment and expertise at South of the Border prices.
At the dental office of Dr. Maricela Arizmendi, we strive to provide quality care to all of our patients. At our dental practice, we take an individualized approach to oral hygiene to address our patients' specific needs, all the while maintaining an inviting, soothing office atmosphere.
Current Promotion: $50 USD for a full checkup.