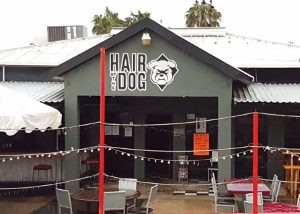 NOTE: Due to COVID-19, Hair of the Dog is temporarily closed.
Hair of the Dog Now Open!
Welcome to Hair of the Dog! Our restaurant and bar has a laid-back, casual setting, where guests are free to have as much fun as possible as they are entertained by their surroundings — dancing to a live band, singing karaoke, playing some pool, watching all the Games & Sports on our 3 big screen TVs, and more. Our servers work hard to ensure you have a great experience at Hair of the Dog.
We are conveniently located right along the main street in San Carlos, with lots of parking at the back of the restaurant.
Join us indoors in our air-conditioned restaurant, or enjoy your food and drinks on our outdoor patio. We've got plenty of room for your party!
Our extensive menu has something for everybody. Hungry? We've got buffalo wings, 11 different burgers, BBQ ribs, fish and shrimp dishes, pasta, salads and vegetarian meals. Try our delicious sandwiches too, including the popular Club Sandwich. We also have lots of snacks, including onion rings, chili cheese fries, quesadillas and tacos.
We have FREE WI-FI. Order in or "to go".
Food & Drink Specials: Taco & Tequila Tuesdays!
Menu (click to enlarge)
Contact Us
Phone: 622-150-8719. Call for your reservation or "Take Out" order.
Address: Blvd Manlio Fabio Beltrones (located on Beltrones main street), San Carlos, Sonora, Mexico
Facebook: Hair of the Dog
Days & Times Open (hours of operation): Open Monday, Tuesday and Thursday, 1pm – 10pm; Friday, 1pm – 1am; Saturday, 11am – 1am; Sunday, 11am – 10pm. Closed on Wednesday.
We have FREE WI-FI and we do "Take-Out".