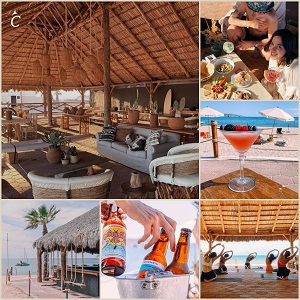 La Palapa Club Cortez is NOW OPEN!  Come for the view; Stay for the experience.
Join us at La Palapa Club Cortez – the largest palapa restaurant & bar on the nicest beach in San Carlos. We are located on the soft white sands of Playa Algodones, beside the Soggy Peso.
What's your pleasure? Sit by the ocean while you sip on a refreshingly cool cocktail made by our professional mixologist, listen to waves lap up on the sandy beach; dance the night away with San Carlos favorites Son Desierto or Sayonara; enjoy a delicious meal and a beer while watching the kiteboarders fly through the air, or just relax and take in the view from the comfort of your seat under our huge Palapa.
With seating for 100 people on the beach and under the palapa, there is always room for you to enjoy yourself at La Palapa Club Cortez.
We serve a variety of beachside snacks like Tacos, Tostadas, Ceviche, Crab dishes, Calamari, Hamburgers, Fish of the Day, and Rib-Eye Steak.
At La Palapa Club Cortez, we have a fully stocked bar as well as coffee and sodas. Try one of our special Signature Cocktails like the Stone Cold mix with Sonoran-made Bacanora. We have your favorite classic cocktails, spirits, and wine too. For beer lovers, we serve Artisanal beer, and both national and international brands.
This is THE place to come and chill. Dip your feet in the ocean, relax in our hammocks, take a moment to breath, and soak in the sun.
As us about our Ashtanga Yoga classes at La Palapa Club Cortez, for all levels. Classes are led by a certified instructor on Mondays, Wednesdays, and Fridays from 10:00am – 11:00am. The cost is 180 pesos per class, or 960 pesos/month. Bring your yoga mat and water. Start your day off energized — with a priceless view.
Twice a month, come out for our Movie Nights on the beach. Enjoy this unique experience under the stars.
On Saturdays we plan activities for the community such as snorkeling and hiking, so keep an eye on our restaurant ad in the weekly What's Up San Carlos newsletter to read about the latest activities and come and join in.
Soon we'll be renting equipment for snorkeling, kayaking and kite surfing. Stay tuned for more details.
The atmosphere here is casual and everyone is welcome, including our furry friends. So bring Fido along because we are a dog-friendly restaurant. We also have FREE WI-FI, and lots of games to keep you entertained, both on the beach and under the Palapa.
Food & Drink Specials:
Happy Hour weekdays from Monday to Friday, 4pm – 6pm: 2 for 1 Margaritas
Food Menu (click to enlarge)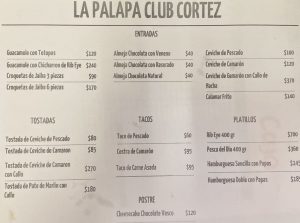 Entertainment this week
Check the weekly newsletter for up-to-date entertainment.

Contact Us
Phone: 622-100-9156 ( call or WhatsApp) for reservations
Address: On Algodones beach, next to the Soggy Peso, San Carlos, Sonora, Mexico
Email: regina@cortez.community
Facebook: La Palapa Club Cortez
Instagram: La Palapa Cortez Club
Days & Times Open (hours of operation): Open daily from 10:00am – 9:00pm.
We have FREE WI-FI.