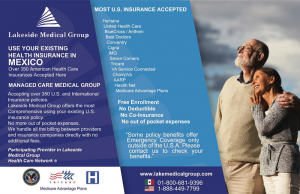 Now Available in San Carlos
Being in a different country is a wonderful experience; but knowing what to expect in case of a medical emergency beforehand and having a helping hand through the process can set your mind at ease. Lake Medical Group is here to help.
Lake Medical Group is a Health Management Organization. Registering with us is easy and free. Being registered means you are covered in Mexico! We are similar to an HMO in the United States, and one of the biggest advantages is that we accept and work with more than 350 different American and Canadian medical insurance plans. We even accept Medicare Advantage and Supplement Plans.
Canadian citizens normally acquire an extension medical insurance that is in place for up to 180 days while traveling outside their country. So you can also ask Lake Medical Group your if your extended insurance works with them.
Lake Medical Group has been established in Ajijic, Chapala, Jalisco (home of the biggest foreign community in Mexico, located near Guadalajara) for 10 years. The headquarters for Lake Medical Group is located in Jalisco, where most of our enrollment is from, but we have participating providers, hospitals and doctors, all over Mexico located in the main cities where most foreigners are concentrated. We also provide ground transportation to the nearest hospital if you find yourself in need of medical assistance while traveling through Mexico.
Now we are offering our services in San Carlos, Sonora through CIMA Hospital. This includes these hospitals' physicians, specialists, labs, pharmacy, diagnostic and lab facilities and general medical services. We will soon have an office in Plaza las Palmas (by Colibrí restaurant) in San Carlos, and Insurance specialist Greg Hovey is our representative. For more information, call 622-980-0508.
Registered Members do NOT pay Deductibles or Co-Insurance. A nominal co-pay fee is all you will ever pay: $100 pesos for a doctor's appointment, $500 pesos for an ambulatory event, and $3,000 pesos (approx $160 USD) for any event that requires more than 1 day hospitalization — with no limits on duration nor how many operations.
The other wonderful thing is that you don't have to pay any money out of pocket to the hospital — that will be taken care of by Lake Medical Group.
All the doctors in the Lake Medical Group Provider Network adhere to the stringent AMA (American Medical Association) Standards of Care. Plus they have a degree of proficiency in the English language, for you to feel safe and at ease. If a doctor is extremely well qualified, but is not as proficient in English, a translator will be provided.
We encourage you to contact Lake Medical Group. A bilingual Operations Manager is available 24-7 to answer questions you may have regarding if your current American or Canadian insurance is usable in Mexico.
The Spanish proverb reads: "Mejor prevenir que lamentar" which means "Better to prevent than lament". During your stay here in San Carlos, Sonora, have some peace of mind by having this set in place, just in case, at no cost.
Our team will be happy to assist you from 9:00am to 5:00pm Mexico City time.

CONTACT INFORMATION
Phone: 622-980-0508 (San Carlos)
Address: Office Opening Soon at Plaza las Palmas – by Colibri restaurant, San Carlos, Sonora, Mexico
Website: lakemedicalgroup.com
Days and Times Open: