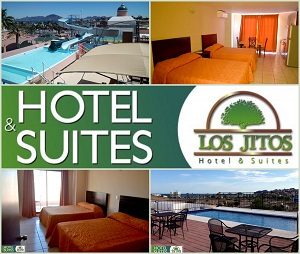 Los Jitos Hotel & Suites is a wonderful hotel located in San Carlos, Sonora, Mexico. The hotel is conveniently situated near the San Carlos Country Club, along the main street. It is just a 5-minute walk from La Posada Beach, making it an ideal choice for beach lovers.
The hotel has 48 air-conditioned guestrooms, each designed to make guests feel at home. The rooms are spacious and come equipped with all the necessary amenities, including free Wi-Fi, flat-screen TVs, coffee maker, and private bathrooms with free toiletries. The beds are comfortable and will ensure a good night's sleep. Suites include a kitchenette with refrigerator, microwave, electric grill and dishes.
Los Jitos Hotel & Suites also features an outdoor pool, which is perfect for guests looking to cool off from the hot sun. The pool area has plenty of lounge chairs and umbrellas, making it an excellent spot to relax and enjoy the beautiful weather. Additionally, the hotel has a 24-hour reception, free parking, and complimentary wireless Internet access throughout the property.
Los Jitos Hotel & Suites is a great choice for anyone looking for a comfortable and affordable stay in San Carlos. The hotel provides excellent value for money and is an excellent choice for families, couples, and solo travelers. Guests can expect friendly and attentive service, clean and comfortable rooms, and a great location close to many attractions in the area.
Call today and ask for our current Promotion!
Website: losjitos
Location: Tetakawi Blvd., KM 11. Plaza los Jitos, San Carlos, Sonora
Phone: 622-226-0093; 622- 169-6751
Email: ventas@losjitos.com.mx
Facebook: Hotel & Suites Los Jitos San Carlos Sonora
Days & Times Open (hours of operation): 24 hour reception