Welcome to the Wellness Centre & Spa
We have moved!
Our phone number remains the same: 622-226-1393. We are also available on WhatsApp: 622-226-1393 Please call or leave us a message.
You can text me on my US number: 623-606-5333.
You can contact us via email at: wellnessforyou2018@gmail.com
New Location of The San Carlos Wellness Centre & Spa
449, Calle Del Abulon
Caracol Peninsula, San Carlos
Driving Directions: Pass the Marinaterra Hotel on the right. At roundabout, go straight over up hill towards Caracol Peninsula. Go through the guard gate. Give name "Delaney". Drive up hill. Turn on First right on Calle Del Abulon. We are about half way on the left hand side AFTER the blue and white house on the left. Our house is pale yellow with green trim #449. There is an empty lot next to us for parking. Go through the side gate on the right hand side of the property.
CLICK HERE for the SPECIALS on our Facebook page. Come in and get pampered at the only 5-star Spa in San Carlos.
Consider supporting our local business with an online Gift Certificate for any value which you can put towards any treatment you choose in the future with no expiry date. We can take PayPal, Cash or Credit Card.
Retail Shelves
We have two Retail Shelves with items that you possibly have run out of. Many items are on sale.
We have your favorite bath & body works shower gels, body lotions, body scrubs, etc., all infused with essential oils. This is especially important right now to shower twice daily adding a scrub. If you want to cheer someone up, we have free gift wrapping and cards available.
Our most popular organic face cream is still available — it is important to keep your skin hydrated in times of stress.
Also, all-natural sleep aids assist stressful periods along with many different essential oils. We have a special blend to assist with keeping your immune system boosted. On Special $5.
If you are interested in purchasing any of our products, please call us at 622-226-1393 to make an appointment to visit the Centre.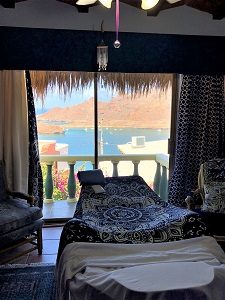 Enjoy one of our Specials or select off our main menu below, relax and pamper yourself in the only quiet, relaxing, 5-star Spa. While our menu is priced in USD, we will conveniently convert this into Mexican pesos for you at the time of your service. We accept US dollars, Mexican pesos, PayPal, VISA, and Mastercard.
Your appointments or Spa treatments are reserved especially for you. We value your business and we ask that you respect our Therapists' time & the Spa's Policy. Note that we require 24 hours notice for any cancellations please. See our Cancellation Policy here.
Book now or buy a gift certificate.
Online Gift Certificates are now available! If you are out of town and wish to surprise family or friends with a Gift, we will email you the Certificate for the selected service. They should call the Wellness Centre directly to make an appointment. To arrange your Online Gift Certificate, please call 226-1393 or email: wellnessforyou2018@gmail.com.
Get pampered. Call 226-1393 today.
——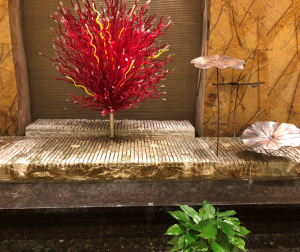 Established 25 years ago and formerly owned by Nancy Norton LMT, the San Carlos Wellness Centre has been a part of our community for over two decades, helping many people recover from injuries and others just enjoying being pampered with massages and facials. Nancy was ready to retire so this was a perfect fit for the new owners, Devin and Karen Delaney, as they did not want to see the Centre close. Nancy has now retired from giving massages.
Devin and Karen have lived in San Carlos for 18 years and are very excited for this opportunity to continue servicing the many needs of residents and visitors. The newly renovated clinic has been transformed with healing colors of blues and greens and healing energies — all part of Karen's vision.
In addition to Chiropractic and Medical massage therapy, new affordable services are available so you can pamper yourself on a regular basis and hydrate your skin which we all need living in the sun!
The services include: Massages. Facials. New Full Back Facial! Full Body Sugar Scrubs. Scalp Massage with oils. Foot Detoxing. Foot scrubs and massage. Body Wraps. Hydrotherapy. Reiki. Low Level laser Therapy for pain management and Chakra balancing. Pedicures, Manicures and Waxing.
The Wellness Centre & Spa will continue to add new therapies and services for you all to enjoy. We also have a fully stocked cabinet of retail items including a variety of essential oils, sugar scrubs, many face products including our popular organic repair cream, face serums, Hyaluronic Acid to hold in moisture for the fountain of youth, Skin Script face products, Biofreeze, all natural sleep aids, your favorite Bath & Bodyworks products, shower gels, lotions, etc., all 25% off! We also have a huge selection of Essential oils and many more items.
The Centre will be offering weekly and monthly Specials so you can come and experience a relaxing therapy. See our San Carlos Wellness Centre Facebook page for the current Specials.
Gift Certificates Available!
Call today at (622) 226-1393 for an appointment. All prices in USD.
Description of Services:
Therapeutic Massages
$49 / 1 hr;  $69 / 1.5 hrs;  $89 / 2 hrs
Add a Peppermint Head Massage on any service for $5
Add an organic hot cellulite and muscle treatment for $3
Swedish: Swedish massage increases circulation of the blood and lymph. It helps relieve aches and body pains improving sleep.
Hot Stone: Heated natural stones are placed on the body during your massage, easing body tension, relaxing the muscles and balancing the body.
Deep Tissue: Deep Tissue massage focuses on stretching the connective tissues. It relieves pain from adhesions and scar tissues which form in the muscles from injuries.
Arthritis Massage: Using a special blend of essential oils using gentle massage techniques, this treatment will soothe your achy joints and muscles.
Sports and Medical Massage: Our therapist has 40 years' experience, combines deep & connective tissue osteopathy, Cyriax friction, mobilization and rolfing type fascia work. $99 /60 min
Head Massage: An infusion of special oils are massaged into the scalp which are absorbed into the hair follicles nourishing and strengthening the hair.
$20 / 30 min
Lymphatic Drainage Massage: This is good at reducing swelling, healing acne, relieving fatigue, helps the body detox, decreases facial puffiness, boosts the immune system, soothes cellulite and soothes sore muscles. $35 / 40 min
Facials
Our licensed aesthetician will first analyze your skin type to insure proper diagnosis and treatment.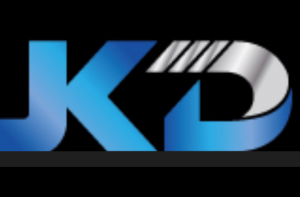 Mini Express Facial: Facial cleansing with steam, exfoliation treatment, calming or hydration mask, finishing with moisturizer, lip balm, hand and arm massage is included. $29 / 30 min
To Mini Facials we recommend adding pure Jade roller around eyes for $2. Add gold collagen eyes and lips treatment for $5
Deluxe Facial: Double Facial cleansing with steam, exfoliation scrub, enzyme, extractions, serum, face massage, hydrating face mask. Massage face and neck with oils, clay or hydration mask on neck and chest, hot towel foot therapy, eye treatment, lip treatment, finishing with an SPF moisturizer with sun screen. $59 / 60 min
Optional hydrating sheet masks. Add on LED treatment for $5
Anti-Aging Facial: Double Facial cleansing with steam, exfoliation scrub, enzyme, extractions, serum, massage face and neck with anti-aging oils, anti-aging hydrating mask, mask also on the neck and chest, hot towel foot therapy, eye cream, lip treatment, finishing with an SPF moisturizer with sun screen. $59 / 60 min
Optional anti-aging sheet masks. Add on LED treatment for $5
Try our new Binchotan Charcoal Mask from Japan. Click here for details.
24ct Gold Collagen Mask also available. Please ask for details.
Back Facial: We perform the same treatment as we do on your face using high quality products.
A back facial will clean, tone, and exfoliate which can help clear up blemishes. Skin that is dry or irritated will be re-hydrated and revitalized using moisturizing masks or lotions. Both men and women benefit from this treatment. Steam cleanse with a rotating brush, exfoliating scrub, extractions by machine, hydrating mask, clay mask, serum, moisturizer. $69 / 60 min
Suggested add-on's for our Facials:
High Frequency electrotherapy glass electrodes are used , anti-aging, anti-wrinkle and tightening – Add $12
Genuine pure Jade roller around the eyes and lips for anti-wrinkle and skin tightening – Add $5
Microdermabrasion diamond tip can be added to any 1 hour facial for $25
Blended oils, or Peppermint Head Massage – Add $10
Gold Eye Gel Masks – Add $5
Gold Gel Lip Masks – Add $5
Full Organic Sheet Masks – Starting at $10
Other Therapies
Chiropractic Services: Doctor William Lay is at the Wellness Centre 2 days a week. A Graduate of Logan Chiropractic University. Uses gentle techniques based on the Logan method. Get adjusted. Align your body. Feel amazing.
Retired Doctor of Chiropractic: Dr. Thomas Wilson D.C. Over 30 years of experience. Specializing in: B.E.S.T.
1) (Bio Energetic Synchronization Technique) – Balancing the central and autonomic nervous systems allowing the muscles and joints to relax and function normally without forceful manipulation
2) Acutherapies (full body and ear)
3) Physiotherapy
Prof. Othon Molina – PhD, LMT: Over 50 years of experience. Sports and medical massage, rolfing, kinesiology, nutrition, personal trainer. Back and neck specialist since 1970.
Cranial Sacral Therapy: CST is noninvasive. It uses gentle pressure on the head, neck, and back to relieve the stress and pain caused by compression. $40 / 45 min
Raindrop Technique Aromatherapy: A powerful technique using essential oils applied to the spine, neck and feet which helps re-align the body, easing the muscles and joints plus improves the immune system. $49 / 60 min
Detox French Clay Wrap: This is a two-step process. A French clay is applied to your body, you are wrapped in hot steamy towels and sheets to sweat and detox. After you shower off, a hydrating body butter is applied. $69 / 60 min
Full Body Scrub & Detox French Clay Wrap: This is a three-step process. First you receive a full body scrub, which is removed with hot towels. Then a clay mask is applied to your body and you are wrapped in steamy sheets to sweat and detox. After you shower off, a hydrating body butter is applied. $99 / 90 min
Foot and Leg Scrub: Using a sugar scrub that is massaged into your leg and foot removing dead skin cells and toxins, it's washed off, followed with a hydrating lotion massaged into your legs and feet. $15 / 30 min
Reflexology: A science of hand and foot massage. Pressure is applied to various points which are coordinated to organs and parts of your body which helps normalize the body system and improves circulation. $30
Nutritionist: Evaluating your health & advising on a healthy diet.
Reiki: The channeling of energy to parts of the body, reducing aches, pains and stress leaving you with a feeling of well-being. $35
Low Level Laser Therapy: The laser re-energizers the injured cellular membranes which help develop healthy new cells. Speeds up healing to wounds, bruising, damaged tissues, bones, and ligaments. Treatments start at $39 depending how long is needed: packages recommended
Chakra Balancing: Using tuning forks and essential oils, your Chakras can be re-balanced bringing body, mind and spirit into perfect harmony. Your feet will be wrapped in hot towels followed by a foot massage. $25 / 30 min
Ionic Foot Detox Bath: Eliminating toxins and metals from the body through the feet, increasing energy and helping the body to become more alkaline. Recommended for many ailments especially patients with Fibromyalgia, Chronic Fatigue Syndrome, a compromised immune system, Lyme Disease. $15 / 30 min session or 6 sessions for $75
We recommend a Peppermint Head Massage while your feet detox – Add $10
Pedicures: Relax for your Pedicures in a very quiet peaceful sacred space.
Regular Pedicure includes: nails trimmed, dead skin exfoliation (feet only), sugar foot scrub followed with hot towels and foot and leg massage with body butter, plus polish. $15.99
Deluxe Pedicure includes nails trimmed, dead skin exfoliation with peppermint sloughing lotion on feet and legs, followed with a sugar scrub on your feet and legs then wrapped with hot towels, foot and leg massage with body butters, plus polish. $18.99
Manicures: $13.99 (French polish, add $6). Removal of existing gel or acrylic nails starting at $5.
Nail Art starts at $5
Waxing Services: Eye brows $8 / Lip $8 / Combo $12
Online Personal Training and Nutrition
Maxwell Gregory is also offering ONLINE personal Training. Due to high demand, there is limited space. Call 622-226-1393 or call/text Maxwell directly at: 480-452-4169; or email him at: thelegend@legendslabs.club
Bio for Maxwell Gregory
Education and Certifications Include:
NASM CPT
Master Personal Trainer
Functional Fitness Trainer
Corrective Exercise Specialist
Orthopedic Knee Rehabilitation
Johns Hopkins Exercise for Parkinson's
TRX
Maxwell is offering online training sessions for those who want to have an option of staying fit and working out while the gyms are closed. He specializes in online training and creates a program especially for you. Please call and we will set you up for a free online consultation.
Specializations
Women's Fitness
Exercise Programming for Parkinson's
Pre/Post Op Exercise for Knee and Hip
Advanced TRX movements
Sandbag techniques
High Intensity Interval Training
Dryland training for swimmers
Our Story:
At Legends Labs, we believe that becoming a legend is earned. Not any one modality of movement is better, but rather, we will train you with a collection of movements to keep progressing your goals of strength, flexibility, mobility, and mindfulness of your body.
Legends Labs was born out of a passion for fitness and finding people in need of quality movement. Whether it be a first-timer or a seasoned veteran of the gym, Legends Labs is dedicated to attention to detail and fostering health and wellness within the body, mind, and soul. At Legends Labs, we are driven by a desire to create a community of health and wellness-minded people.
Meet the Team
Karen Delaney: Owner, Therapist.
Devin Delaney: Owner, Business Manager.
Dr. William (Bill) Lay, D.C.: Chiropractor. Over 30 years experience. Available for appointments twice a week and on call for emergencies.
Dr. Thomas Wilson, D.C.: Chiropractor. Over 30 years experience. Specializes in B.E.S.T., acutherapies, physiotherapy, intersegmental traction.
Prof. Othon Molina – PhD, LMT: Sports and medical massage, rolfing, kinesiology, nutrition, personal trainer. Back and neck specialist since 1970.
Mavy Alejandra Bojorquez – LMT: Massage therapist.
Ferzhy: Pedicures and Manicures.
Contact us today
Phone: 622-226-1393. Call or WhatsApp for appointment. We require 24 hours notice for any cancellations please.
Address: 449 Calle Del Abulon, Caracol Peninsula, San Carlos, San Carlos, Sonora Mexico 85506 (see above for driving directions)
Email: wellnessforyou2018@gmail.com
Facebook: San Carlos Wellness Centre & Spa
Days & Times Open: Monday to Saturday, 9:00am – 6:00pm. Call for an appointment.
We accept US dollars, Mexican pesos, PayPal, VISA, and Mastercard.