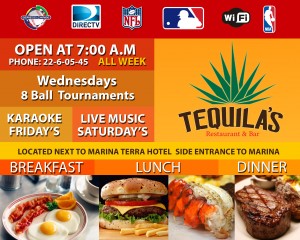 You haven't experienced San Carlos, Mexico until you've been to Tequila's. Named after Mexico's national drink, Tequila's Restaurant & Bar is the quintessential Mexican experience. Our Sports Bar has been family-owned for over 30 years. Tequila's welcomes you to enjoy breakfast (we make the best chilaquiles rojos in town), lunch (try one of our new 7 gourmet burgers), and dinner (we're famous for our chili rellenos) at our spacious restaurant located at the side entrance to the Marina, just past Marinaterra hotel. Stop by and try our new menu!
With Daily food specials, Daily Happy Hours, 2 Pool Tables, 4 big-screen TVs, free wireless internet, and lots of parking, Tequila's is the perfect place to relax and enjoy the best Mexican food in San Carlos.
Bienvenidos!
Happy Hour is Every Day from 3:00pm – 6:00pm.
20 pesos Indio, Sol, Tecate, Tecate Light; 30 pesos National Drinks; 35 pesos Big Margaritas. Sunday is 30 Pesos Bloody Mary Day all day long.
Contact Us
Phone: 622-226-0545; or 622-149-0066 (cel)
Address: Calle Almirante and Blvd Gabriel Estrada. Just past Marinaterra Hotel, by the side entrance to the Marina San Carlos
Email: sancarlostequilas@hotmail.com
Facebook: Tequilas Rest Bar

Days & Times Open (hours of operation): Open Sunday – Thursday from 7:00am – 11:00pm; Friday and Saturday from 7:00am – 3:00am.
Have you eaten at Tequila's Restaurant & Bar? What did you think?