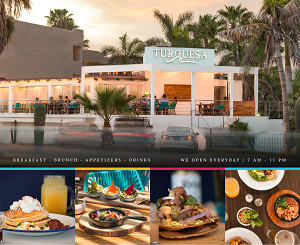 At Turquesa Restaurant, admire the beautiful Sea of Cortez and watch the sunset from our outdoor patio or air-conditioned restaurant.
Located across the street from Charly's Rock and next to the Hacienda Tetakawi hotel, Turquesa Restaurant is open every day except Tuesday for breakfast and lunch, from 7:00am – 3:00pm. Enjoy a traditional southern Mexican breakfast, the popular Skillet de Pastel Azteca. This lasagna-style dish is made with chicken and corn tortillas with a red chile sauce.
For lunch, try our delicious Rib-eye tacos or our Tlacoyos de Cameron – a regional shrimp dish made with thick corn dough tortillas. With beef, fish, and shrimp on our menu and a fully-stocked bar, we have something for everyone. Check out our menu with burger sliders, hot dogs, soups and salads.
With your meal, why not try one of our special artisanal beers, RREY London or RREY Kolsch, crafted in the city of Monterrey and brewed to perfection as per the German tradition.
Menus

Contact Us
Phone: 622-103-0416. Call for reservations. For your "Take Out", WhatsApp 664-793-8584, and we'll respond with the message, RECIBIDO.
Address: On the main street, Tetakawi Blvd, across from Charly's Rock restaurant and beside Hacienda Tetakawi hotel.
Facebook: Turquesa Restaurant
Days & Times Open (hours of operation): Open Monday, Wednesday through Sunday from 7:00am – 3:00pm (closed on Tuesday).
Have you eaten at Turquesa Restaurant? What did you think?