Dog stylist, Armando Cabrera is an accredited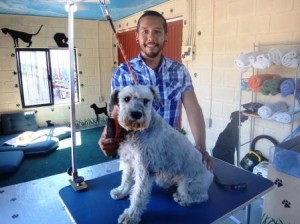 groomer, and takes pride in his ability to work with your furry family members. He grooms all breeds, large and small at his dog salon, All About Dogs.
Leave it to Armando to give your dog a professional bath. He will choose from one of his all-natural, luxury shampoos to gently massage the desert sand and dirt off your pup, followed by a blow/brush out. Included in the package, at no additional costs are:
Hair cut
Clean out ears
Express anal glands
Nail trimming
Cleaning paw pads
High Velocity drying
With Grooming Packages starting at only 80 pesos, call Armando today for your appointment. Prices depend on type of coat; breed, and size of pet. You can also choose a-la-carte services, such as nail trims; brushing teeth; flea and tick baths; etc.
During the initial visit, Armando will consult with you to discuss and record your pet's needs, your grooming preferences (i.e. style of cut), the dog's temperament; and any special requests. With a comfortable doggie lounge, no cages, and a treat at the end of their visit, your dog will love the personal attention they'll receive at All About Dogs. And you'll love the results!
Contact Armando Cabrera for information.
Phone:     045-415-113-0675 (cellular)
Address: #11 at the apartment next to the water tank across from Bahia San Francisco
Rate All About Dogs & Leave a Comment: