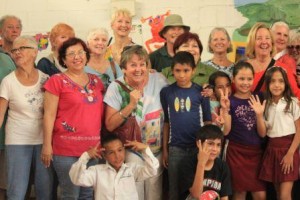 Comedor Apoyo Infantil, the children's kitchen in Guaymas, which provides children in need with something to eat, and a place to study or play safely after school. Ages range from pre-school to junior high. Open weekdays; volunteers needed 2-3 p.m.
WHAT THEY NEED: Volunteers to play with the kids (table games, shoot hoops, hit a soccer ball or bounce on a trampoline), help with homework or craft projects. Or donate food (especially water, fruit, cookies, potatoes) or meat (and a shoutout to fishermen who may have some extra in the freezer). Also needed: paper towels, toilet paper, first aid supplies, crayons, coloring books, balls, toys, children's clothes and shoes.
WHO TO CONTACT: Lorena manages the kitchen and speaks some English (855-0093 or 221-2312), and Violeta can also help with English (123-5044). The director is Ana, Spanish only (228-7795). Also look for Comedor Apoyo Infantil on Facebook or email castawaykidsmexico@gmail.com for more information.
LOCATION: 900 Serdan, across the street from the ferry terminal; about a block before Casa Franciscana. Look for the sign on the front of the building: Comedor Apoyo Infantil.