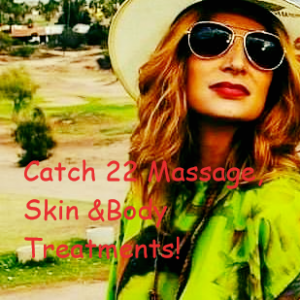 Catch 22 Massage, Body & Skin Treatment Spa!
US Certified Paramedical Esthetician and Nationally Certified Massage Therapist. The Difference! Other, "Spa's" talk about facials! At Catch 22, I talk about skin treatments and the difference is clear. A facial is something that is indulgent or pampering. The result is you're going to see with a Catch 22 Skin Treatments are unlike anything else in Guaymas / San Carlos, Mexico. With the products that are Professional Grade Skincare and Freshly made, you're going to see your skin glowing, more luminous, and hydrated, quite honestly it's going to be in its optimum condition, the best skin you've ever had.
The Difference!!!
Massage Treatments:
70 Minutes to 115 Minutes all include:
-Assessment Test:
Performing an Assessment before a Massage Treatment while the client is standing is the optimal way to evaluate a client, reach an agreement and create a treatment plan!
Range of motion testing, Tension is the precursor to injury, and restricted range of motion is an indication of tension and dysfunctional movement.
By revealing these areas to a client, Catch 22 Therapist can design session that will not just get Client out of pain now, but make the Client healthier in the future.
HEAD & Light SINUS Relief always included!!!
-Head massage
Relaxes the muscles. By relieving the tension in the muscles, head massage helps in reducing headaches, pain and discomfort.
-Light Sinus Relief- Message to help the mucus to drain from sinuses.
-One Free Blend of Aromatherapy Oil used in every Treatment!
Full Menu (click to enlarge flyer)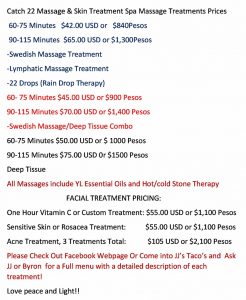 Edema: Foot & Leg Swelling Treatment (click to enlarge flyer)
Special Facial Treatment: 24k Gold (click to enlarge flyer)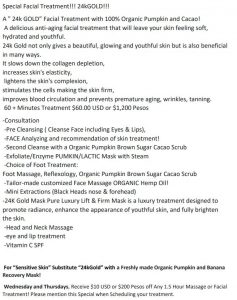 Contact Catch 22 Massage, Body and Skin Treatment Spa
Susanne Carmela 52 622 108 2353
USA Certified Practicing Medical Aesthetics
USA Certified Massage Therapy for Pain Relief and Nationally Certified Massage Therapist
Phone: 526221082353
Address: Tetakawi Boulevard, lote 1a sector el faro,San Carlos, Sonora Mexico 85506.
Location: JJ's Taco's San Carlos-Yellow Building Behind JJ's  Swt#5 in the middle bottom floor.
Parking @ JJ's Taco's
Website: https://www.facebook.com/Catch22RelaxRejuvenateWineandDine. Please Visit Catch 22's Facebook page to view full Menu and Daily Specials.
Email: dejapezvela@gmail.com
Days & Times Open (hours of operation): By Appointment Monday-Friday: 8:00am-4:00pm
Walk-ins Welcome, Monday- Friday: 11:00am-4:00pm