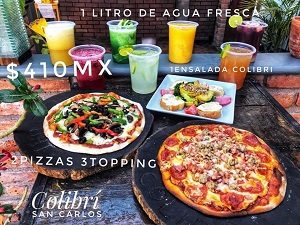 We welcome you to Colibrí Restaurant & Bar, a garden oasis like no other in San Carlos. Located in the north-west corner of Plaza Las Palmas (where the CEA water company is located) in the center of town, Colibrí (which means "hummingbird" in English) is your best choice for an intimate, romantic dinner or for a fun outing with a bunch of friends.
With three separate dining areas, the choice is yours. Enjoy your favorite meal in our indoor, air-conditioned restaurant; eat outside in the enclosed garden area; or have a view of the ocean on our outdoor patio upstairs — with seating for over 80 people, we're ready for your group, large or small. We have a well-stocked bar, including beer and wine.
Our menu is full of unique dishes that is sure to satisfy the most discerning palate. The restaurant features Tapas (small plates), International entrées, made in-house ice cream, and Italian gelato. And, we serve a full breakfast.
You must also try our delicious mesquite wood-fired pizzas.
Come in and check out our delectable culinary delights!
Colibrí Restaurant & Bar has the staff, food, and atmosphere to make your evening memorable.
We also have FREE WI-FI and plenty of free parking.
Happy Hour
Happy Hour is everyday. Come in and ask for our specials!
Colibrí Menus and "To Go" Packages

Entertainment this week
Check the weekly newsletter for up-to-date entertainment.
Contact Us
Phone: 622-115-3466 (cel). Call for reservations or for your "Take Out" order.
Address: In the corner of Plaza las Palmas (same plaza as CEA water company), San Carlos, Sonora, Mexico
Email: alex.r.mendoza@icloud.com
Facebook: Colibrí San Carlos
Days & Times Open (hours of operation): Open Tuesday to Sunday from 8:00am – 10:00pm. Closed on Monday.
We have FREE WI-FI and we do "Take-Out".
Have you eaten at Colibrí Restaurant & Bar? What did you think?