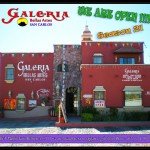 Galeria Bellas Artes has a very interesting history. Its owner and San Carlos resident for the past 32 years, Pilar Rutherford, and her late husband Burke, have always been lovers of art. In fact, Burke was a sculptor as well as being an architect. For many years, he would bring artists from the US and arrange art exhibitions and shows at the Posada and the San Carlos Country Club. The tradition of having art in San Carlos was so well supported that in the mid 1980's, the Rutherford's showed art work in their own home in the Caracol.
His passion for sculpture and art in general led to his decision to sell his home, and use this investment to open a real art gallery for the residents, their guests, and visitors of San Carlos. He designed the charming Galeria Bellas Artes that we see today on the sea side of the main road across from the San Carlos Country Club, next to Sagitario Gift Shop.
The Galeria is a showcase for the works of over 30 artists from Guadalajara, Mexico City, Puerto Vallarta, and other parts of Mexico. It includes some local San Carlos talent as
well. Here you will find amazing original paintings of the colors, the textures, the sunsets, the people, the crashing waves, the architecture and the traditions of Mexico. Pilar is always available to provide explanations of the artwork, and to tell you about the artists. When I visited, Pilar pointed out several oil paintings by prolific Mexican artist Jorge Prieto and other crafts by Mexican artisans. There are works by Armando Becerra, a popular painter who celebrates his love and dedication to the arts by painting Mexico as it is. Even movie director James Cameron has a Becerra adorning a wall in his private home in California. Other well-known artists include Mayen and Acosta.
The gallery represents a family of artists who loves art! They have a true dedication to appreciation of art in all its forms. On exhibit now at the gallery is photo art by Jay Barwell.
You will also find bronze and marble sculptures, ironwood carvings, gorgeous pieces of jewelry in original designs, and hand-made scarves and purses for sale. The price ranges will suit the budget of any discerning buyer. To view some of the artwork, visit the website.
The Galeria is able to provide custom framing and they also carry a supply of ready-made frames that can be used for paintings, mirrors, or photographs. With the capability to pack and ship your purchases, there is no reason not to pick up a painting as a gift or to ship back home as a souvenir of your visit to San Carlos!
The art sales and framing have been able to support many Mexican families over the years and has proven to be a great asset to our beautiful, artistically-talented community. So the next time you are driving through town, why not stop by the Galeria Bellas Artes and see how many fine artists depict the vibrant colors and passion of Mexico. If you've got an empty spot on your wall, you are certain to find something aesthetically pleasing to fill it with. The gallery is open Monday – Saturday from 9:30am to 5:00pm.
Open from October to early June, the Galeria Bellas Artes features various guest artists throughout the season.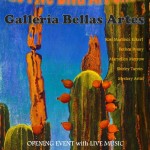 Stay tuned to What's Up San Carlos newsletter for details.
Contact
Owners:  Pilar Rutherford
Phone: 226-0073 or 622-145-1197
Address: Tetakawi Blvd., #111, Sector Villa Hermosa, San Carlos, Sonora Mexico
Email: galeriabellaartes.sc@hotmail.com
Website: galeriabellasartes
Days & Times Open: Monday to Saturday – 9:30am – 5:00pm; (open seasonally) from October to the end of May.