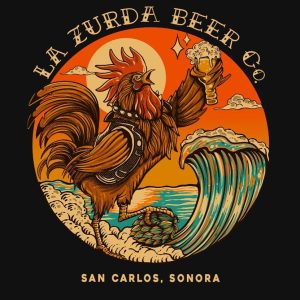 Just look for the building with the rooster murals on it, and you will have discovered La Zurda Beer Co., San Carlos' newest and coolest gastropub. La Zurda means "left-handed", which the owner chose because he is left-handed, as is his much-loved grandfather to whom he credits much of his success. Being raised on a farm, the logo with the rooster is a nod to the owner's roots.
At La Zurda, you will find a dozen or more craft beers — you must try our own Rooster Crow and Ezequiel. Many Sonoran breweries are also represented, such as the popular Buqui Bichi from Hermosillo, and others from Obregon and Nogales. Treat yourself to some out-of-state beers from Tijuana, Mexicali, Chihuahua and Ensenada. Choose a flight of 5 beers for the perfect sampler! We have 16 beers on tap and will change them up frequently — come in to see what's new!
Combine your artisanal beer with a delicious wood-fired pizza! Meat Lovers, Margarita, Shrimp, and 4-cheese are some of the most popular. We've also got several dips to share, and some special seafood entrees, caprese salad, and a delicious elotes blanco con mayonesa de chiltepin. For dessert, you must try our innovative Sweet Pizzas, either with fruit and mezcal or with smoked caramel.
While we pride ourselves on our craft beers, we also serve cocktails and mocktails. With names like Bombshell, Mundo Groovy, and Astronauta Marino, you are sure to find something to your liking.
Join us at our comfortable and covered outdoor seating area for over 120 people, and check out the many murals and artwork on display. We've got games for the kids and adults alike. We also sell merchandise — come in to find your next favorite baseball cap or hoodie!
La Zurda Beer Co. is located on main street Tetakawi Blvd, just past Boyes Burgers and across from the Ley Supermarket. Our friendly and bilingual staff is happy to serve you.
Menus (click to enlarge)
La Zurda Beer Co. changes its beer weekly — with 16 beers on tap, there's always something new! Come and check it out!
Wednesday Tuk-Tuk Special
La Zurda is partnering with Bichaá Tuk Taxi and Tours. On Wednesdays, take a tuk-tuk to the restaurant and your first beer is on us, as well as the trip back to your place.
Call or WhatsApp 622-171-8298 for your ride and enjoy this unique experience! Check out Bichaá Tuk Taxi and Tours for all your other ride options in San Carlos.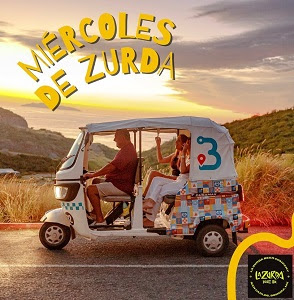 Entertainment this week
Check the weekly newsletter for up-to-date entertainment.

Contact Us
Phone: 644-250-6640 or 644-129-1619 (Call or WhatsApp) for inquiries
Address: On the main street, Tetakawi Blvd, No. 230. at the corner of Neptuno, just past Boyes Burgers and across from the Ley Supermarket.
Facebook: La Zurda Beer Co.
Days & Times Open (hours of operation): Open Wednesday & Thursday, 5:00pm – 10:00pm; Friday, 5:00pm – 11:00pm; Saturday, 2:00pm – midnight; Sunday, 2:00pm – 10:00pm. Closed on Monday and Tuesday.
We have FREE WI-FI.