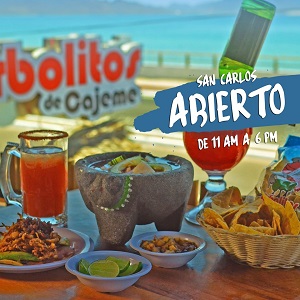 Los Arbolitos de Cajeme in San Carlos welcomes You!
Los Arbolitos de Cajeme has been serving its clients delicious meals for the past 25 years and is one of the most popular restaurants in the State of Sonora. Los Arbolitos prides itself on its excellence in cuisine and on its customer service. Come on in and give us a try.
Our San Carlos restaurant has the freshest seafood, the best Sonoran beef cuts, and the nicest and largest outdoor palapa-covered patio that has striking views of the Sea of Cortez. Watch the dolphins swim by or the sun set while you enjoy a fantastic meal any day of the week.
Your meal begins with our complimentary in-house tortilla chips and sauces. Start with one of our many appetizers, including soups and salads, tacos and tostadas. Follow that with our popular Shrimp dishes, like Boston or Ranchero Shrimp. Looking for a bit more heat? Our Shrimp a la Diabla won't disappoint. We also offer 7 different options for fish fillets. Our seafood is always fresh and has a unique and characteristic northern Mexican flavor. Prefer to have some meat? Then try the mouth-watering Arrachera steak, cooked to perfection and served with rice and salad.
You must try our famous Molcajetes — you choose either a hot or cold option, filled with a delectable assortment of seafood.
Most meals are accompanied with rice, vegetables or salad, and corn or flour tortillas — let us know your preference.
We are licensed and carry an assortment of beers, wine, spirits, and cocktails.
Specials
If you are a guest of San Carlos, staying at a hotel or rental, ask for your coupon to receive a 10% discount on food consumed in our restaurant.
We have plenty of free parking in front of our restaurant and along the boardwalk.
Entertainment this week
Check the weekly whatsupsancarlos newsletter for up-to-date entertainment.
Contact Us
Phone: 622-226-0076. Call for reservations or for your "Take Out" order. We offer home delivery (fee is 25 pesos – 50 pesos, depending on where you live).
Address: On the main street Tetakawi Blvd, San Carlos, Sonora, Mexico.
Facebook: Los Arbolitos de Cajeme San Carlos
Website: mariscoslosarbolitos.com
Days & Times Open (hours of operation): Open Everyday! Monday to Sunday from 11:00am – 6:00pm.
Have you eaten at Los Arbolitos de Cajeme? What did you think?