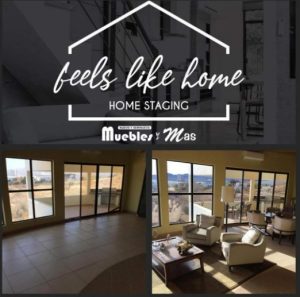 With over 15 years experience in the Home Staging business in Mexico, and in San Carlos since 2007, Francisco Torres and his staff at Muebles y Más are available to service all your home staging needs.
Our Services
Our services include staging your home, office, business, or hotel — to suite any budget or requirement. We also have furniture to rent. Ask us for details.
Our warehouse is in Navojoa, Sonora. Much of our furniture is from hotel liquidations, and our top furniture pieces are available to complement your existing furniture, or to use to furnish an empty space. We have a large inventory that is universally suitable. We also have new furniture.
If you are planning to sell or rent your property, then Contact Us. We will help you, in the most economical way, to sell or rent your place quickly. We are happy to work within your budget, in order to give you the highest value for your property.
We will help you to design your space and to make suggestions on how to improve its value. Examples include:
Depersonalizing the space to appeal to all buyers
Focus on lighting to enhance the atmosphere of the room, including creating focal points
Painting both inside and outside in neutral colors
Accessorizing your home or garden with decorative accent pieces
Providing you with the furniture you'll need to make your home or business eye-catching and enticing for prospective buyers or renters
We have affiliations with all the contractors you may need — roofers, upholsterers, painters, carpenters, cleaners, landscapers & rock layers, etc. — and we will oversee the work to meet your requirements, save you time, and make it convenient.
Just give us a call and we will give you a FREE QUOTE for the job!
Examples of Home Staging
Examples of Hotel Staging (Before & After)
Francisco Torres Contact Info
Phone & WhatsApp: 622-109-0031
Address:
Email: fraboto@yahoo.com
Facebook: Muebles Y Mas
Instagram: 
Days & Times Open: Contact Francisco Torres anytime via phone or WhatsApp