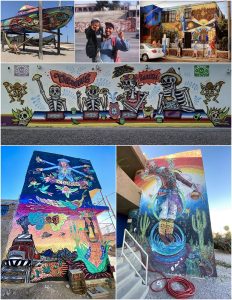 The art of San Carlos: Meet Ramon Palomar
As a child, comic books inspired him to draw and eventually paint, then to move outdoors, from graffiti to murals that span the entire front of buildings. You might have seen his work, but didn't know where it came from.
And Ramon Palomar, known on Instagram as @reymon622, doesn't mind that at all. He lives quietly. You appreciate the art without knowing its source.
"In my life," he says, "everything is art."
Moving recently to San Carlos amid a boomlet of public art, Ramon was starting something in 2016 when he fashioned the side wall of Hotel Playa San Carlos (formerly the Fiesta Real), with a mystical mural some 30-feet high, seemingly portraying the sacred deer dance of the indigenous Yaqui as a way of thanking the animal before it gives its life so the hunter can live. But his dancer has a different story.
In Ramon's depiction, the dancer, his deer head pulled back against the sunset colors of the Yaqui flag, is blindfolded and instead dances for rain. The water swirls at his feet while his heart stretches to the sun. It is water that we need to rise in the desert now, not the deer.
The bottom of the mural is wearing away — it abuts the salty sea and suffers from the harsh Sonoran sun, wind and dust. All outdoor artists must face the consequence that their art is ephemeral.
"It is part of life," he said, translated to English. "Everything breathes, from humanity to a building, everything has a cycle. The joy is from being able to just do the art, and to keep learning techniques that might preserve it better."
Two of his earliest murals that grace the entire building fronts at the Franciscan brothers' free health clinic and food kitchen in Guaymas near the port, have faded since he painted them about eight years ago. Ramon will try to restore some of his work, starting with the Yaqui dancer in San Carlos this summer. And there are other threats to contend with as one of his murals was covered by a Coca Cola advertisement.
His outdoor artwork is elsewhere in San Carlos — inside Marvida restaurant, soon to be on the stairwell at Bartina 64, a monochromatic mural down the outdoor stairway at the Hotel Playa San Carlos, and on one of the town's iconic dolphin metal sculptures. His work is all over Sonora, from the frontera to little mountain towns where he shows young people his techniques, inspiring future muralists and artists.
Perhaps the most striking of his murals within our viewing scope is four-stories high, entitled "La Ferrocarilera," centered on a female train conductor, of whom there are few in Mexico, maybe none. It rises in an alley in nearby Empalme, a town built by the Utah Construction Company for the Southern Pacific in 1905, the only town in Mexico built by foreign interests. His piece, painted with acrylics on a scaffold for 20 days in 2019, depicts the town's history, with a train puffing around the bend, its indigenous people, a resplendent peacock, flowers from the "garden city," and at the very top, a four-armed female engineer holding a wrench, an oil can, a signal light and a stop watch.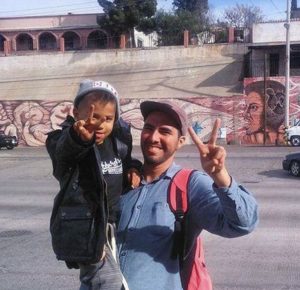 Ramon's effort with his leading lady is to emphasize women's rights, one of the social issues in his work, along with indigenous people, immigration, animal welfare, the land and its bounty.
"I am not the revolutionary man," he says, "but I focus on social issues; that is my revolution, change through painting."
He comes from "pobres," he says, grandparents who were farmers in Michoacán, where he lived his first 10 years before traveling to Tijuana, San Diego, Hermosillo, Guaymas and up in the Sonoran mountains before finding a spot, at 31 years old, in San Carlos.
His father is a house painter and his mother is the "boss of the laundry" at Pilar Condominiums.
He enjoys collaborations with other artists — this summer they plan mobile events with art, t-shirts, music, dancing, small festivals on the beach, at the Soggy Peso, at the Mirador. It is too hot and humid to spend all day painting in the glare, so he looks for other inspirations.
"With the passage of time," he says, "I decided to put more interaction, ethics and perseverance into what I did until I became what I am, a man who paints to survive, not to show off."
His is a gift of color and beauty and symbolism, and he hopes, of change.
Contact: Discover more of Ramon Palomar's art on Instagram at @reymon622, or reach him by email at reymon91622@gmail.com.
by Cathy Henkel. Find more stories and photographs about art in San Carlos and surroundings in "66 Days in San Carlos," by Cathy Henkel. For 400 pesos or $20, all of which is donated to the education program at Castaway Kids, it is available at Castaway Kids (Thursday and Saturday mornings), Sagitario and Vive Real Estate.
Date: April 11, 2022