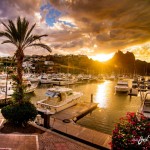 Readers of What's Up San Carlos have been amazed by the great photographs at the top of the newsletter. The artist behind many of these pictures is Abraham Castro. Born in Obregon, he has spent most of his life in Sonora, including 8 years in Chihuahua and 7 years in San Carlos. He currently lives and owns his own business, Onix Studios, in Empalme.
Known mainly for his landscape photography, Abraham's pictures are immediately recognizable because of the color correction and the composition – exemplified in the picture on the left of the sun setting at the San Carlos marina. Abraham's talents are varied. He takes professional photos for Tourism of Sonora and for private businesses and individuals. He does portrait photography. He also makes videos for commercial use, and is a videographer for private events. While he is best known for his remarkable photography, Abraham is currently doing a lot of 3D animation for a new service available to clients called Projection Mapping. Click this video for a better understanding of this concept.
Abraham is an Industrial Engineer by trade, and is a self-taught photographer. He's been working on videos and in photography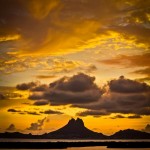 for more than 10 years. While his favourite themes are landscapes, nature, and animals, he has begun to branch out into shooting people portraits. To quote Abraham: "I like the challenge of finding the best angle of any person, no matter what their age, sex, or race."
When asked what inspires him, Abraham said that he can find inspiration in anything. While sometimes it depends on his state of mind, he feels that he still always tends to look for the beauty of things and people. His self-described style is "colorful". Abraham likes both color and black & white photography, but he explains that in this digital age, most pictures are taken in color and thereafter are de-saturated. Black and white has a unique feeling, and from an optical point of view it is more comfortable for your eye and is also elegant and emotional.
He shoots with a Canon camera, DSLR model 7D and 60D. Other than his camera, Abraham's favorite photography accessory is a tripod, so he can capture those long exposure shots more clearly. If he could only choose one lens, he would choose a wide angle lens, since he loves natural landscapes.
When asked about the influence of digital technology on his photography. Abraham explains that while a computer may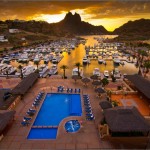 improve what he captures and does the finishing – the real work is on the camera angles, the right operation of the camera and a good eye. In his opinion, the thing that makes a great picture stand out from the average is that a good picture captures your attention, but a great picture drags you in and you don't even know why.
Abraham has been part of the "Foto Septiembre" Exhibition for the last 3 years. He is currently working on pictures for 3D viewing, and will be looking for venues to show his art when they are completed. Keep your eye on What's Up San Carlos' newsletter for information on future events showcasing Abraham's talent. You can also see Abraham's work on his Facebook page.
The best photography tip Abraham has ever received is: "Take a lot of pictures". Well, I would say that we are lucky that he's heeded that advice and shared his remarkable eye and talent with us. If you are interested in learning more about Abraham and his services, or if you would like either private or small group lessons, please contact him at 622-125-8007 (cellular) or email Abraham@digitalacb.com.
Contact information:
Telephone: Cel 622-125-8007
Email: Abraham@digitalacb.com
Website:  www.onixfx.com
Facebook:  Abraham Castro Bazúa