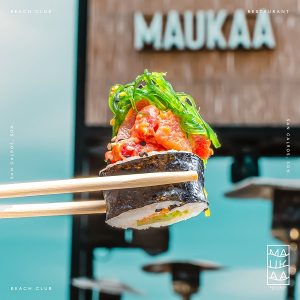 Looking for a restaurant along the beach? Then come to Maukaa Restaurant Beach Club.
One of the few restaurants located right on San Francisco beach, it has something for everyone. Plunge pool for those warmer days. Huge palapa with swing chairs for a laid back vibe. Stadium-sized screen showing your favorite sports teams and music videos. Party-time in the evenings with a live DJ and entertainment on the weekends. Great service. Fantastic food & drink menu for all-day dining.
We've got your favorite flavorful breakfast dishes with a variety of sauces. Try our eggs with chilaquiles, omelets, pancakes, French or avocado toast. For lunch and dinner, try our popular Maukaa Burger or one of the many seafood dishes. We've got several tostadas, tacos, sushi and shrimp meals that you are sure to love, including our Rock Shrimp with sriracha dressing.
Our main dishes include Salmon, Seared Tuna, Grilled Fish, Octopus, and Grilled Rib Eye with delicious sides. We have a fully stocked bar with all your favorite cocktails.
Birthday Special
We are the new concept in San Carlos where we have delicious dishes, a club area, a pool and what better than in front of the beach. Come and enjoy a *FREE Meal on your birthday at Maukaa! (* you and minimum of 4 people; can be within the week before or after your birthday).
Maukaa Menu (click to see the full menu)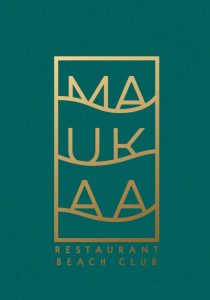 Entertainment this week
Check the weekly What's Up San Carlos newsletter for up-to-date entertainment.
Contact Us
Phone: 622-116-5119 (cell or WhatsApp) for reservations or for your "Take Out" order.
Address: Along the main street, Blvd Tetakawi, on San Francisco beach. Next to Hotel Playa San Carlos, San Carlos, Sonora.
Facebook: Maukaamx
Website: maukaa.mx
Instagram: maukaabeachclub
Days & Times Open: Open everyday. Monday to Thursday: 9:00am – 10:00pm; Friday & Saturday: 9:00am – 3:00am; Sunday: 9:00am – 2:00am.
We have parking and we do "Take-Out".