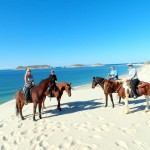 Ready to horse around a little? Then come ride with us on marvelous alabaster beaches or enjoy the solitude of the mystical Sonoran desert.
We offer many affordable trail rides for all levels and ages of riders.
We ride along the beach. In the dunes. Through the desert. We ride through and see the film location of the movie Catch-22, which was filmed in San Carlos in 1969.
For a longer ride in cooler weather, we also head up to the canyons to explore the mountains and look for waterfalls. We also ride beyond La Manga, and then can stop there for lunch on the way back.
Our guides are experienced horsemen and we'll provide you and your friends with fun and adventure. Click here for more information on Astrid and the rest of the team.
Tours are flexible; they range from 1 hour to 4 hours, and cost only 350 pesos per hour ($20 USD), so contact us to book today.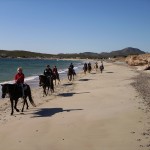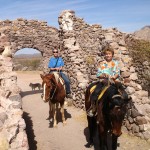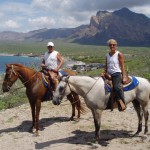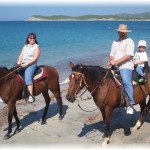 Explore this beautiful area of San Carlos from a new vantage point on top of our wonderful horses at El Rancho del Desierto stables. Helmets, riding boots, and English saddles available upon request. Rides can be scheduled between 9:00am – 5:00pm. Even if you are not in the mood to ride, bring your whole family to come and visit us and see our beautiful and majestic horses. They would love it if you brought a carrot or two. We also offer boarding for your horse. Check out our website for more details.
Getting married, celebrating a quinceañera, special birthday, or event, then click here to see how we can make it unforgettable.
Contact Us:
Phone: 044-622-855-5930
Email: astridranch@hotmail.com
Website: astridranch.com
Facebook: El Rancho del Desierto – Astrid's Ranch
Rate Astrid's Ranch – El Rancho Del Desierto & Leave a Comment: