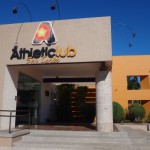 Athleticlub San Carlos is a modern, clean and fun gym with state-of-the-art equipment and many different classes. We are celebrating our 12th Year Anniversary as the premier health club in San Carlos!
Your membership includes:  weights & cardio machines; fitness classes such as zumba, pilates, latin dancing, and yoga; spinning classes, water aerobics; pickleball, tennis and ping-pong.  And for the kids, we have special dance classes, tae kwon do, tennis, and much, much more.
Be part of it. Body – Mind – Spirit
Our instructors are experienced, accredited, and will make the hours you spend at the club enjoyable and worthwhile. Whether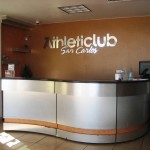 it be in a fitness class, on the weight room floor, or in the pool, we are here to help you meet your exercise needs. We have trainers available on the floor to assist you with your exercise routine, and with the operation of the cardio-machines and the weights. If you wish to have a dedicated trainer to help you design a personalized fitness program, then please ask at reception.
Pilates Reformer: This innovative form of exercise focuses on the strengthening of muscles that helps you to maintain a symmetrical and revitalized body. Pilates Reformer is used for exercises by both men and women, young and old. Contact us for class schedules and costs.
Our air-conditioned gym provides a large workout space that houses top-of-the-line cardio-vascular equipment and weight machines, all surrounded by 42-inch plasma TVs. We provide showers and lockers for your use.
We also have a Pro Shop that carries a wide range of brand name fitness and sporting apparel, equipment, and accessories for our members and guests.
Click for our current Weekly Schedule: February 17 – 22
Current Promotions for February
Valentine's Promotion: $0.00 Registration Fee for new couples. $100 pesos registration fee for any other memberships. Until February 21.
Some restrictions apply. Ask us for details.
Check out our new classes this season. Contact us at 226-0700 for details, or come into the gym.
NOW OFFERING:
*Zumba Gold
Athleticlub San Carlos is now offering "Zumba Gold", a zumba class for those of you who wish to get moving and grooving at your own pace.
This class is based on the same dance moves used in the Latin dance class, however it is less intense — with dance routines designed for beginners, seniors, or for people nursing an injury or with bad knees or hips who prefer something with low impact. The music is a little slower and the dance moves are more controlled. Try this fun, lively class and get a great work-out!
This class will be led by Sandy every Tuesday and Thursday at 8:00am. And right after you can cool down in the pool for Aqua-aerobics!
Come into the gym or call 226-0700 for details.
*Belly Dancing with Amaya
THE MAGICAL WORD IS "SHIMMIES"! Join us at the Athleticlub on Wednesdays at 9:30am….we are going to have fun dancing and learning about a new dance form. Soft shoes or barefoot. A hip scarf would be helpful.
Some stretches, some fun, breakdown of hip shimmies, working on our posture and introducing some short combinations to "Amayaguena", a Latin/Arabic fusion gypsy dance routine and more fun. For women of all ages and shapes!
Feel Tall, Feel Proud, Feel like a Queen!
*Spinning Classes. Here are the Top 6 Reasons to take a Spin Class.
MASSIVE CALORIE BURN: A SPIN class can really "turn up the burn", so to speak. An average
sized person (150 lbs.) can burn up to 800 calories per class. Even challenging levels at other
Cardio equipment can't burn that many calories.
IMPROVE CARDIOVASCULAR HEALTH: You will work both aerobically and anaerobically for
specific intervals improving overall endurance and cardiovascular efficiency. Just as any
muscle will increase strength through overload, so does the heart, which results in your
ability to work harder for longer periods of time.
EXPERIENCE HOW TIME FLIES: In a SPIN class, the challenge is constantly changing. As you work through each level, you tend to lose track of time. You find yourself "in the zone" and suddenly an hour has passed!
PROGRESS AT YOUR OWN PACE WHILE HAVING FUN RIDING TOGETHER: If you prefer to
pedal with a little less intensity, you can't fall behind the rest of the class and you won't feel
out of place for not knowing the steps in a routine. Regardless of your fitness level, a SPIN
class keeps everyone together. This goes beyond sitting in the same class as each individual
works equally as hard at their own level. It is amazing how you can feed off the energy of
other riders when you begin to fatigue. Riding together also gives you the opportunity to
encourage others who may not have yet reached your level of fitness while those stronger
than you inspire you.
ENJOY AN EFFECTIVE, LOW IMPACT WORKOUT: A SPIN class keeps the pressure off the hips,
knees and ankles. You can work out hard without impact to the joints, unlike treadmills and
stair steppers. Lots of former runners have switched to SPIN and they still get the same
"high" that they used to get from running.
BUILD YOUR MENTAL STRENGTH: A SPIN class builds mental strength; sometimes in life and
in class you can have difficult times. By pushing through those times, you gain self‐discipline
which can be applied to all areas of life. The physical exertion can also be a catharsis for
releasing pent up emotions. The Warm‐Up and the Cool‐Down are great ways to relax and
refocus your energy as well. You feel better naturally throughout the day following a class
and you have more energy.
*Tai Chi classes with Francisco Javier Perez Saenz. Check out all the benefits of this martial art form.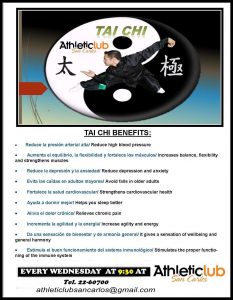 *On-site Massages (tel: 226-0700 for appointment)
*CrossFit — Forging Elite Fitness: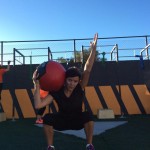 Promoted as both a physical exercise philosophy and also as a competitive fitness sport, CrossFit workouts incorporate elements from high-intensity interval training, olympic weightlifting, plyometrics, powerlifting, gymnastics, girevoy sport, calisthenics, strongman and other exercises. CrossFit is a strength and conditioning program with the aim of improving, among other things, cardiovascular/respiratory endurance, stamina, strength, power, speed, coordination, agility, balance, and accuracy.
*Pickleball Court: Ready to join the fastest growing sport in North America. Then come out to our new pickleball court, and see what the hype is all about. We have lights so you can play at night! Call us at 226-0700 to book your game today!
Click on Schedule for play times and costs.
Cafeteria & Juice Bar
The indoor/outdoor cafeteria & juice bar is the social hub for our members. Get a good start or enjoy a healthy finish to your day with delicious and nutritious meals and snacks prepared by our staff. The most popular items include fruit smoothies, shakes, and sandwiches. Working meals and breaks are now more convenient with our complimentary wireless Internet access.
Pool, Jacuzzi, Ping-Pong table, Tennis Court and Pickleball Court (see above)
Outside, there is an in-ground lap pool which is solar heated, a smaller kiddie pool, and a Jacuzzi. Water aerobic classes are offered, and for a nominal fee, we also provide swimming lessons.
There is also a tennis court, a pickleball court, a basketball hoop, and a ping-pong table. Group tennis lessons are included with your membership. Private tennis lessons for adults are available upon request for a fee. Just ask at the reception desk.
For Children and Youths
There are also many activities geared towards children – like taekwondo, swimming and tennis lessons. There is an on-site play area for kids.
Having a Special Party or Event?
The pool and patio area is available to rent for your special party or event.  Having a birthday, anniversary, or wedding — ask us about our special packages. For details, please ask at the reception desk.
Memberships
There are many types of memberships and different packages available to meet every club member's needs. You can choose from a selection of individual activities, or pay a set Membership Fee which includes access to almost EVERYTHING – the fitness classes, the weights and cardio machines, the pool, Jacuzzi, and tennis & pickleball court (only the pilates reformer class, private tennis and swimming lessons cost extra).
Click on image for Pricing 
Contact Us
Phone: 226-0700 (llamanos al 22.6.0700)
Address: Avenida 3 #110 at the corner of Calle IV, San Carlos, Sonora Mexico
Email:  athleticlubsancarlos@gmail.com
Facebook:  Athleticlub San Carlos
Days & Times Open (hours of operation):  
Monday to Friday, from 6:00am to 9:00pm.
Saturday from 8:00am to 3:00pm.
Closed Sundays.
Horario: 
Lunes a Viernes de 6:00am a 9:00pm.
Sabados de 8:00am a 3:00pm.
Cerramos los Domingos.
Have you used Athleticlub San Carlos? What did you think?