Introducing the Ultimate Transportation Solution in and to San Carlos: Bichaá Transportes, a Van and Moto Taxi Services!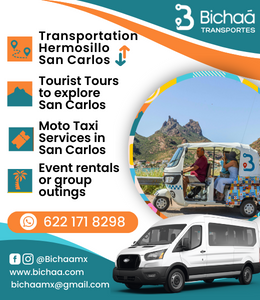 Do you want a convenient and reliable way to navigate through and to San Carlos? Look no further! Our Vans and Moto Taxi Services are here to revolutionize your transportation experience in San Carlos — our fleet of modern vans and tuk tuks (motorized rickshaw taxis) will get you to your destination safely.
Here's why you should choose our Van and Moto Taxi Services:
Versatile Fleet: We offer Vans and Tuk Tuk (motorized rickshaw taxis) to suit your specific needs. Need ample space for a group outing, event or a ride from the Hermosillo Airport? Our spacious vans are perfect for accommodating larger groups comfortably. If you prefer a fun ride in San Carlos with panoramic views, our tuk tuks are ideal to take you to any location, restaurant or to check out all the sights in San Carlos.
The new restaurant, La Zurda Beer Co., is partnered with Bichaá Tuk Taxi and Tours. On Wednesdays, you can take a tuk tuk to the restaurant and your first beer is on La Zurda, as well as the trip back to your place.
Safety First: Your safety is our top priority. Our drivers adhere to strict safety protocols to guarantee a secure journey. Additionally, our vehicles are regularly inspected and maintained to ensure optimal performance.
Convenient Booking: We've made booking a ride effortless. Send us a WhatsApp message, give us a call or send an email to schedule a pickup.
Order Bichaá Transportes by sending a WhatsApp Message or a call to 622-171-8298.
Email: bichaamx@gmail.com
Visit our Website: bichaa.com
Experience the convenience, reliability, and comfort of Bichaá Transportes. We're dedicated to making your journey as smooth and enjoyable as possible.