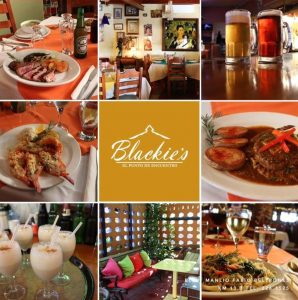 Blackie's Restaurant — Celebrating over 20 years in San Carlos!
Blackie's Restaurant & Bar has been a staple in San Carlos for over 20 years, offering a delicious dining experience and excellent service for its national and international guests.
Our charming upscale restaurant serves favorite authentic Mexican dishes such as our popular Shrimp Guillermo and Meat, Chicken or Shrimp Fajitas. If you are in the mood for the best cut of Sonoran beef, try our Rib Eye Steak "Rancho 17". Or perhaps you would prefer our popular Raspberry Chicken. Or for fish lovers, the Fish au meunière or the flambé Fish Fillet au Citrus or Tequila Shrimp is a must. Come hungry because our international menu has a variety of food options that will please any palate. Start your meal with a Caesar Salad, prepared for you table-side by our welcoming and friendly staff, and end it with a refreshing complimentary after-dinner drink.
Don't see something you are craving listed on the menu for you or for the kids — just ask your server and we'll be happy to accommodate you if we can!
Come in today and find out why we are rated one of the top San Carlos restaurants on TripAdvisor!
Cool off this summer in our comfortable, air-conditioned restaurant. With an indoor & outdoor seating capacity of 80+, we're ready for your group, large or small. Ask about our Special menu options, such as the popular family-style platters, for larger groups of 10 or more. Celebrate your special event, birthday or anniversary at Blackie's and we'll make it unforgettable. Diving groups also get special deals. Just call us in advance for your reservation.
We have FREE WIFI and plenty of free parking.
Menus (click to enlarge)
GOT FISH?
Our chef will prepare it for you both breaded and grilled with 3 delicious sauces, served with salad, rice, vegetables and our complimentary after-dinner drink — all for 180 pesos per person.
Entertainment this week
Check the weekly What's Up San Carlos newsletter for up-to-date entertainment.
Contact Us
Phone: 622-226-1525. Call for your reservation today or take-out order.
Address: On the main street, Tetakawi Blvd., in San Carlos, beside the ARCO gas station, KM 10.3, San Carlos, Sonora, Mexico
Facebook: Restaurant Bar Blackie's
Days & Times Open (hours of operation): Open Tuesday to Sunday from 7:00am – 8:00pm. Closed on Monday.
We have FREE WI-FI and we do "Take-Out".