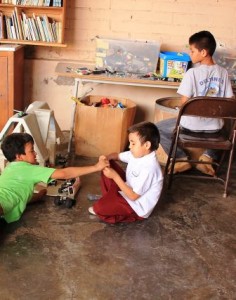 Club Jerry is an after-school gathering place for boys and girls who otherwise would not have a safe place to play.  Founded in 1993 by Canadian Jerry Donovan, the non-profit club provides a structured and caring environment that has kept children in school and out of gangs. The philosophical approach hinges on four core characteristics: values, self esteem, respect and discipline. Open in the afternoons for children ages 7 through 11, around 3 p.m. Monday through Friday. On Saturday mornings, the older kids volunteer to clean up the area, and at 4 p.m. Saturdays, there is a social event for teenagers. The club has a large concrete yard for basketball,  cycling, soccer and skating, as well as a covered play area.
What they need: Check with Jerry, who always is looking for old laptops for the students,  craft projects and some sports equipment like skateboards. They also accept used clothing.  The needs change as their numbers rise and fall.
Contact: Jerry Donovan, 622-109-5522 (cell), 222-2288 or email at clubjerry@gmail.com.
Website: jerrysclub.org.
Location: 627 Serdan. Two blocks east of Bellas Artes, on a diagonal road that veers to the left.  (Take the first left off Serdan after the OXXO.) Take that road to find a large black gate that says "Club Jerry."