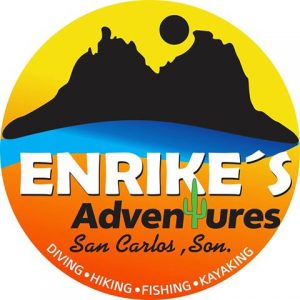 Enrique is a young man who was born and raised in Guaymas and San Carlos. He became a certified tour guide of the state of Sonora in 2008. Since then he has been making a lot of people happy.
We have the following tours:
Kayak tour
Jeep tour
Nacapule Canyon
La Posa Canyon
Tetawaki hike
Snorkeling tour
Mountain bike
Guaymas Historical
Rentals: kayak, paddleboards, sandboards, fins, mask and snorkels, and more.
For sale: New and use kayaks, paddleboards, paddles, seats and more.
Extra services: translations, personal driver, guide for other cities, property management and more.
Contact Enrike's Adventures:
Phone: 622 22 6 0289
Office Address: Tetakawi Blvd., Plaza La mar, Sector Crestón #6, San Carlos, Sonora Mexico
Hours: 9:00 am to 18:00 hrs.
Website: sancarlosadventures.com
Facebook: facebook.com/enrikes.adventures