The art of San Carlos: Meet Heks One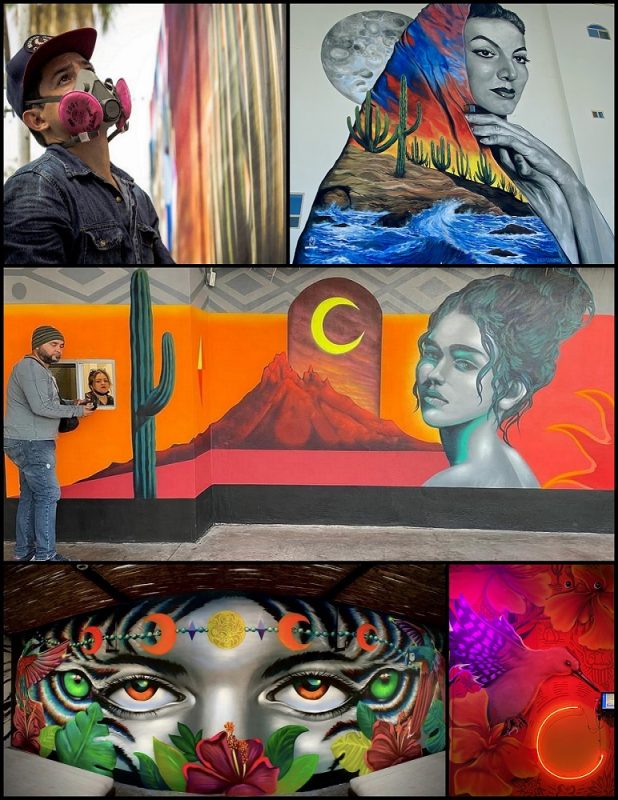 His towering mural is hard to miss, and many of us were lucky enough to watch it grow on the side of the newest hotel in San Carlos, Casa Maria, to almost 50-feet high.
Francisco Mendez, known by his graffiti tag "Heks One," created a stunning portrait of Maria Felix, an iconic Mexican film star and singer of the 1940s and '50s, with the moon as her backdrop, and an ocean and desert landscape draping her torso.
He did it with brush and roller and a crane.
"In this case, we did not use aerosol paint so that its conservation is greater from wear from the sun and the breeze from the sea,'' said Mendez, a 30-year-old artist who has spread beauty all around his native city of Hermosillo.
Maria Felix was his fourth mural in San Carlos, which is having an artistic growth spurt, from the some 20 painted dolphin metal sculptures to other outdoor murals at restaurants La Catrina (by Rosendo Tanori) and La Calaca (by Ramon Palomar) and still more being planned for the future.
Mendez' first work in San Carlos was inside La Bartina 64, a long, swirling wall of stunning color, with neon light flourishes.
"The approach is to tell a story from dawn to night," Mendez explains. "The woodpecker represents the workers who come to San Carlos to retire and rest, and the mural culminates with the figure of a woman baptized by the locals."
Bartina provided his entry into San Carlos, and Maukaa Beach, a bar built during the pandemic just as you enter town, was quick to follow this past winter with two of its outside walls facing the beach resplendent with his art.
"Maukaa means sunset in the Yaqui language, and I wanted to use that concept with ​​the moon, and with the full moon, a woman transforms into the feline spirit," he said.
On another wall, he focuses on Tetakawi, female beauty and again, the moon.
While the pandemic shuttered some businesses, at the same time it provided them with a chance for a fresh look once the pandemic waned.
"We did promote more work during the pandemic because many businesses were looking for ways to innovate with artistic touches," he said. "The pandemic helped us to find that humanist side, to not forget that we are passing through, and that we always seek to be in a colorful context — and what better than a mural to show that."
Mendez corroborated on the Marìa Felix mural with an artist collective in Hermosillo called Sangre del Desierto, or "blood of the desert."
"We are a group of multidisciplinary professionals (architects, designers) focused on promoting urban art,'' he said. "Together, we have the opportunity to participate in projects with greater social impact. While each artist in the group works on their own, joining as a team has opened many doors.
"We have worked in many places in Sonora, but because of the pandemic, we have not been able to travel abroad for other projects. In Hermosillo, we have had the opportunity to begin a stage where the mural is more appreciated as a message and a rescue of spaces.
"Art has evolved very quickly here in Sonora and can now be seen as a profession that unfortunately was not seen as such before."
Like many muralists, Mendez began with street art.
"I started doing graffiti because I was restless and that's where I learned to mix colors, draw and discover the impact on painting and how transcendent a message can be through a wall," he said.
Mendez was educated as an architect, with a degree from the University of Sonora.
"Thanks to that career I was able to further develop my interest in how important spaces are in the city, and how that psychologically influences its inhabitants. The mural is an essential tool for the healthy development of a city.''
Discover more of his art on social media, through Instagram — @heksone and @sangredeldesierto — and through Facebook at Francisco Mendez / Heks One.
by Cathy Henkel (Find more stories and photographs about art in San Carlos and surroundings in "66 Days in San Carlos," by Cathy Henkel. For 400 pesos or $20, which is donated to the education program at Castaway Kids, it is available at Sagitario, Vive Real Estate and Castaway Kids Thrift Store.)
Date: March 2022