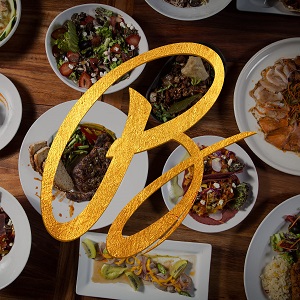 La Bartina 64 is now open!
Looking for a casual dining experience in the heart of San Carlos with views of the beautiful Sea of Cortez! Then look no further than La Bartina 64 – located upstairs in the Seascape Plaza.
With three seating areas to choose from, you can have it all. Sit on our outdoor patio while sipping a refreshingly cool cocktail; enjoy a modern, clean and comfortable dining experience indoors; or head out to the rooftop patio with padded couches, chairs, a bar and music.
Our specialty is our gourmet food! We have a varied menu to please all palates: salads, ceviche, tostados and tacos, burgers, steaks, shrimp, sashimi and much, much more, including dessert. You'll also enjoy our fully stocked bar with over 14 wines available, Modelo brand beers, and exotic cocktails.
At La Bartina 64, you can dance the night away with Assterisko or Nat Yet, or take in all the sports action on one of our 8 big-screen TVs savoring our popular Juicy Lucy burger and a nice cold beer. With seating for over 140 people, there's always room for you to enjoy yourself at La Bartina 64. Celebrate your birthday with 4 friends or more and enjoy your meal for FREE!
We also have free WI-FI and plenty of free parking at Seascape Plaza.
 Happy Hour & Food Specials
Happy Hour is Monday – Friday from 5:00pm – 7:00pm. 2 x 1 drinks and beers! And on Wednesdays, come in with a friend and enjoy Triple Wednesday Burgers. 3 burgers for the price of 2. Ask your server for details.
 Menu (click to enlarge)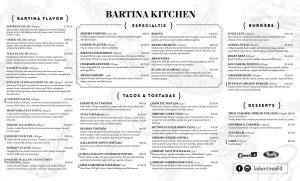 Entertainment this week
Check the weekly newsletter for up-to-date entertainment.

Contact Us
Phone: 622-226-0968. For reservations, call 622-164-6278 (cell).
Address: On the main street Blvd Manlio Fabio Beltrones, upstairs in Seascape Plaza. Look for the rooftop bar.
Facebook: La Bartina 64
Days & Times Open (hours of operation): Open Everyday! Monday to Thursday from 11:00am – 11:00pm; Friday and Saturday from 11:00am – 3:00am; Sunday from 11:00am – 12:00am.
We have FREE WI-FI and we do "Take-Out".
Have you eaten at La Bartina 64? What did you think?