La Calaca Tacos y Cerveza has the following promotions:
Taco Tuesdays: 2 x 1 Tacos al Pastor (after 2pm)
Wednesday: Buy 3 tacos and get a free beer.
Entertainment:
Tuesday: Rolas y Ana. 6pm – 9pm
Wednesday: Sahuaro. 6pm – 9pm
Thursday: Los Dorados. 6pm – 9pm
Friday: Acoustic Band Hits. 8pm – 11pm
Saturday: Tigre y Tony. 8pm – 11pm
Check out the new menu items: fish ceviche, seafood cocktail, shrimp aguachile and smoked marllin tacos.
La Calaca is open Monday to Thursday from 8am to 10pm, Friday and Saturday from 8am to 12am and Sunday from 8am to 11pm
For more information and for reservations, call 622-138-9930.
Follow them on Facebook.
Menu for La Calaca Tacos y Cerveza
click to enlarge
La Calaca has new summer seafood specials (Verano de Mariscos)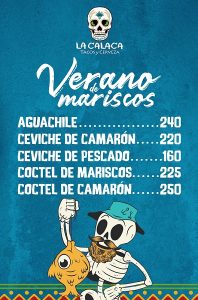 Specials & Live Music