La Calaca Tacos y Cerveza has the following promotions:
Taco Tuesdays: 2 x 1 Tacos al Pastor (after 2pm)
Wednesday: Buy 3 tacos and get a free beer.
We also have a few warm drinks as Winter Specials: hot chocolate with mezcal and chile ancho, hot fruit punch, mexican coffee with tequila and kahlua and hot chocolate with mint liqueur.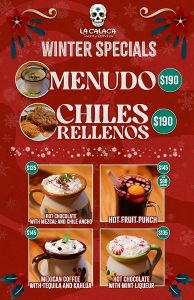 Check out the new menu items: 2 new Burros, Nachos with birria, and Chiles rellenos.
La Calaca is open Monday to Thursday from 8am to 10pm, Friday and Saturday from 8am to 12am and Sunday from 8am to 11pm
For more information and for reservations, call 622-138-9930.
Follow them on Facebook.
Menu for La Calaca Tacos y Cerveza
as of March 2023 … click to enlarge
Entertainment:
Monday: Manuelito and his Guerreros. 5pm – 8pm.
Tuesday: Rolas y Ana. 6pm – 9pm
Wednesday: Sahuaro. 6pm – 9pm
Thursday: Utopia Acoustic Trio. 6pm – 9pm
Friday: Acoustic Band Hits. 8pm – 11pm