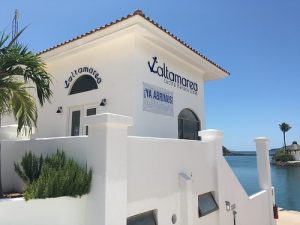 Altamarea Restaurant, serving authentic Italian cuisine and more, is NOW OPEN in San Carlos.
Owned by executive chef Danilo Sodano, Altamarea (meaning "high tide") is sure to become your favorite place to enjoy delicious meals inspired by the tastes and ingredients of Italy, in a beautiful setting at Marina Real. Comfortable air-conditioned indoor seating is currently available in our tastefully decorated restaurant. Outdoor seating is coming soon.
With indoor seating for 65 people, and outdoor (when available) for 20, we can accommodate your group, large or small.
Watch the yachts head out or the sun go down as you savor a dish of Fettuccine with Asparagus and Scallops, Lasagna Bolognese, or Grilled Rib Eye. Start off with a soup or salad, or an appetizer of Grilled Spicy Shrimp or Burrata di Mozzarella. If you are in the mood for Mexican fare, we have several dishes to choose from, including Chamorro Adobado, our marinated pork shank, Stuffed Roasted Poblano Pepper, and more. And you must try our gluten free Caprese Cake, Tiramisu, or Churros for dessert.
A full breakfast à la carte is served on Sundays only, starting at 9am. Start your day off right with some hot cakes or waffles, an omelet, Eggs Benedict, chilaquiles, and more.
We are fully licensed, serving all your favorite mixed drinks, beer, and wine. If you choose to bring your own wine, there is a corkage fee of 200 pesos. Note that the wine must have been purchased in Mexico with a seal from the Hacienda (SAT).
Chef Danilo has been a restaurateur for the past 40 years, owning successful restaurants in Italy, Brazil, and throughout the US, including his current family-run business in Scottsdale, Casa Mia. He is passionate about his craft and the food he puts on the table, ensuring his customers have an authentic Italian cuisine experience.
Altamarea restaurant has friendly and bilingual staff, delicious food, and a casual, comfortable ambience to make your dining experience exceptional.
We are located in Marina Real, by the parking lot closest to the gas station dock. There is plenty of free parking available. We have a ramp for easy access for everyone to our restaurant.
Altamarea Menus (in English & Spanish) – Breakfast menu on Sundays only

Entertainment this week
Check the weekly newsletter for up-to-date entertainment.
Contact Us
Phone: 622-113-3563 (restaurant) or 622-127-6163 (cell). Call for reservations or for your "Take Out" order.
Address: We are located in Marina Real, by the parking lot closest to the gas station dock. San Carlos, Sonora, Mexico
Email: altamareamx@gmail.com
Website (menu available here, as well as online reservation system): altamarea.mx
Facebook: Coming Soon
Days & Times Open (hours of operation): Open Monday, Wednesday & Thursday, 5pm – 10pm; Friday & Saturday, 1pm – 11pm; Sunday, 9am – 1pm (breakfast menu); 1pm – 5pm (regular menu). Closed on Tuesday.
We do "Take-Out".