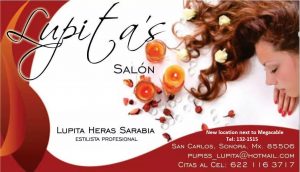 Open Monday to Saturday from 10:00am – 6:00pm. (note that the Salon will be closed from November 6 – 11)
Call 622-132-1515 or 622-116-3717. Gift certificates are available.
The Salon that makes you look and feel great. With over 19 years' experience, professional stylist Lupita Heras knows how to make her clients look and feel great. Four years ago she opened Lupita's Salón, a full service beauty salon, and Lupita continues to have a reputation for sending clients out the door looking like their best selves.
With a wide range of specialty services, the salon boasts expertise in the area of customized highlights, customized haircuts, men's grooming and much more. Now located in the plaza next to Megacable, Lupita's Salón provides an inviting, friendly, and, intimate atmosphere.
Lupita listens to her clients' needs and wants, and consistently provide excellent customer service in a fun and creative environment. It is a salon that educates the client about haircuts, colors and styles that will make the daily "get-ready routine" in San Carlos much easier.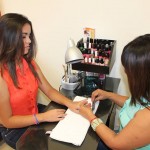 Need a manicure and/or pedicure? Then Lupita's Salón is the place to go for your next pedicure or manicure, including acrylic nails and Gelish nails.
At Lupita's Salon, you can also get a luxurious, deep cleansing facial that will leave you with a healthy glow. Introducing our new BEM Therapeutic technique, which allows bioelectromagnetics to re-generize cells in the face and body. Ask us for details.
We're also famous for the best and most artistic acrylic nails in town.
NOW AVAILABLE: Gelish nail care! Gelish is a hybrid, meaning half nail polish, half gel. The product is thin and strong enough to be applied similarly to nail polish, but it is cured in a way that gives it great flexibility and durability. It also has the incredible shine associated only with gel nails. Gelish is ideal for people who want to maintain natural nails. Come and try it today!
Call today at 622-132-1515 or 622-116-3717 for your appointment.
CURRENT PROMOTIONS FOR NOVEMBER
Mondays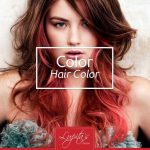 20% discount on Hair Color
Wednesdays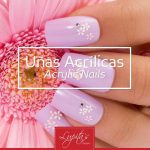 20% discount on Gelish Nail Treatment
Gift Certificates Available
Call today: 622-132-1515 or 622-116-3717 (cell)
Call and make an appointment
At Your Service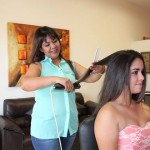 Right when you wake up. At the supermarket. Out for dinner. At the beach. We understand you want great hair all day, every day.
Luckily, we've found a way to make that wish a reality. It's simple really. By accentuating your already fabulous locks with the ideal cut, color and style tailored especially for you, you'll rock a new glow wherever you are.
We are dedicated to providing high customer satisfaction through excellent service, quality products, and creating an enjoyable atmosphere for every client. With plenty of free parking and convenient office hours, Lupita's Salón is the place to go for your one-stop beauty shopping. Our services include:
HAIR CUTS
Women's cuts
Men's cuts
Children's cuts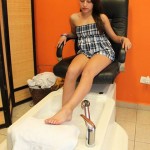 Blow-dry
HAIR CARE
Joico Hair Spa (Specialized treatment with natural keratin)
COLOR / HIGHLIGHTS / LOWLIGHTS / CURL
Straights
Upstyle
NAILS AND MORE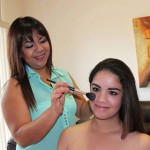 Spa Pedicure
Manicure
Acrylics
Gelish polish
Make-up
Our Products
Davines Hair Products: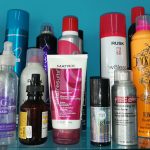 Davines is simply divine. Founded in 1983 by the Bollati family, Davines began as a research lab for high-end hair and skin care, honing their skills before moving into the salon industry in the mid-1990s. The Davines hair care philosophy takes inspiration from beauty, nature and tradition. Davines creates shampoos, conditioners, and styling products to benefit more than just your hair, creating products with sustainable packaging made from renewable energy sources.
Joico Hair Products: 
Whether hair is dry, damaged, color-treated, fine and lifeless, coarse and unmanageable, or just needs a little something extra to make it really healthy and beautiful, Joico's salon hair products offer targeted solutions to meet every hair type's specific needs. Quadramine Complex is the scientifically proven key to the effectiveness of Joico's hair care products, which incorporate Human Hair Keratin Protein in a wide range of molecular sizes to suit every hair care need. Joico hair products actually repair damage to hair while you are styling it, at every step of the way from shampoo to adding hair color products to final blow-drying.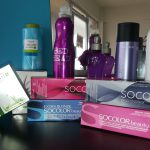 Contact us today to make an investment in yourself
Lupita's Salón embraces the need for hair service that is comfortable, professional, and reasonably priced. Our team's only goal is to make our clients look and feel great.  Through consultation, we find out what your needs are, what's realistic, and what you would be comfortable with. From classics to what's on trend, we love what we do and what we do is make our clients feel great about themselves.
It's time to make an investment in yourself. For more information about our services and treatments or to schedule an appointment, please call Lupita Heras at 622-132-1515 or 622-116-3717 today.
Phone:    622-132-1515 or 622-116-3717 (cell). Call for appointment or just come on in.
Address: Located in the plaza next to Megacable, San Carlos, Sonora 85506
Email:     pupiss_lupita@hotmail.com
Days & Times Open:  Monday – Saturday, 10:00am – 6:00pm. (note that the Salon will be closed from November 6 – 11)
Gift Certificates Available!
Rate Lupita's Salón & Leave a Comment: