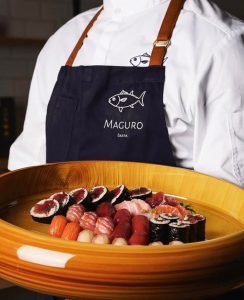 Maguro Barra is Now Open in San Carlos
You haven't tried authentic sushi in San Carlos unless you have dined at Maguro Barra. Our outstanding chefs deliver the fundamentals of Japanese cuisine, respecting the individual ingredients' natural flavors.
Maguro Barra offers a traditional and contemporary mix of sushi along with a variety of eclectic seafood items. We pride ourselves on using the finest quality of local and seasonal fresh fish, which arrive daily from local suppliers. Some of the most popular dishes are the Uramaki King Crab Maki, the delicious Unagui topped with foie gras or truffle, and another favorite is the Sashimi Especial, which is a mix of different seafood. We also have several starters like Miso Soup, grilled Octopus, or Shrimp tempura.
We are passionate about what we do. We take special delight in introducing our guests to surprising pairings of our food with sake, beer or wine. We invite you to visit us for lunch or dinner.
Food & Drink Special: Taco Nori Tuesdays: Soup, varied Temaki dishes, sake, and beer for $30 USD. 
Maguro Barra is located at Marina San Carlos, beside Marvida restaurant, near dock I. We pride ourselves in our charming and boutique setting, with seating for 10 indoors at the chef's counter and several outdoor tables overlooking the yachts and activity at the marina. Parking is available in the marina parking lots.
Tuesday Special and Regular Menu (click to enlarge)
Contact Us
Phone: 622-227-3900 for reservations or for your "Take Out" order.
Address: Marina San Carlos, beside Marvida's restaurant, by Dock I. Blvd. Gabriel Estrada Edificio "A", San Carlos, Sonora
Facebook: Maguro Barra
Instagram: maguro.sc
Days & Times Open: Open Monday to Sunday, from 2:00pm – 11:00pm.
We have FREE WI-FI and we do "Take-Out".