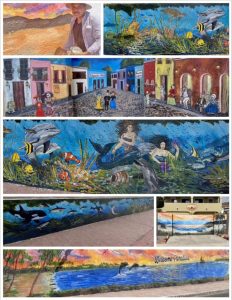 Art of San Carlos: Meet Hector Vari & Mauricio Brandt
Father and son, Hector Vari and Mauricio Brandt have decorated San Carlos for several decades.
Hector was the first muralist here, painting hundreds around town until he died in November at the age of 90. His son Mauricio, now 57, carries on the family trade, recently completing three elongated murals along the side of the main frontage road, starting at Galeria Bellas Artes, his sponsor, and stretching past the Hair of the Dog. Like his father, Mauricio's art pops up inside many homes here or along their outside walls, from seascapes and gardens and jungles to Dia de los Muertos themes.
But Mauricio was never Hector's apprentice.
"It's just in my blood," Mauricio explains, translated to English, of how he learned his art.
Because Hector was so prolific, paint was always available to his seven children. Mauricio first began with oils when he was 8 years old and won an art contest in Nogales, where he was born and his father sold black velvet paintings.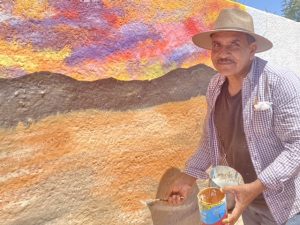 Mauricio didn't know then that it would become his profession, or if he could even make a living at it, to support his wife and five children, eventually settling in Guaymas. He had worked on a diving boat, managed a market, and painted some signs before deciding, like his father had before him, to make his passion his career some 30 years ago.
"It is my job now, and I like it, to be in the open air,'' he says. "I don't have to work inside for eight hours in the same place. I am outside, free to be here in San Carlos, in Sinaloa, wherever I want to be."
His striking Day of the Dead mural is one of four skirting the outside of a home in the De Anza neighborhood called "La Casa del Solitario," for a man from Colombia. It runs along the side entrance, telling the story of a big dance that night, as a boy hawks a newspaper, and cats and dogs mingle with the townfolk, all delightfully dressed in skeleton form.
While his father's murals follow a similar style, Mauricio's vary significantly, but always with brilliant coloring and beautiful detail.
And might there be another generation of the family painting around San Carlos someday?
"Well," Mauricio says, with a twinkle in his eye, "I have a grandson who shows promise."
Contact: Mauricio Brandt, 622-103-5915, also on WhatsApp. He understands more English than he speaks, he explains.
by Cathy Henkel.
Date: April 19, 2022