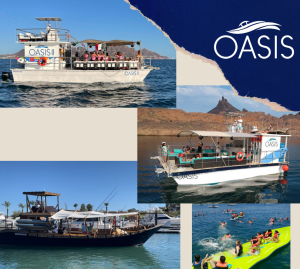 Oasis Tours has a fleet of large, comfortable catamaran boats that are available for all of your special occasions. Celebrate your birthday, anniversary, wedding, or just come with a group of friends, family or co-workers to have a great time with Oasis Tours.
Take that perfect sunset photo as we cruise around the San Carlos shoreline for several hours. The Sea of Cortez is filled with sea life and we often find the playful dolphins, a sea lion or two, and there's often lots of bird activity along the way.
We have several sizes for your every need:
* Oasis: Capacity of 26 people
* Oasis II: Capacity of 36 people
* Dhow unique wooden boat: Capacity of 16 people
* La Vikina: Capacity of 6 adults and 2 kids
All of our boats are equipped with restroom facilities, lounge chairs and tables, snack & drinks bar, music / Bluetooth for you to listen to your favorite music. For your safety, the boats have life preservers and first aid kits. Our Captains are certified and the staff are bilingual. Oasis and Oasis II have paddle boards, floats, and marine mats available for you or the kids to play with when anchored.
Contact Us today for rates for your private charter.
Or join one of our Scheduled Tours:
Oasis has a Sunset Cruise on Saturday evenings. Contact us for departure times. Meet at Dock M at Marina San Carlos.
This 2-hour cruise takes you along the bay of San Francisco beach, hitting the highlights for optimum picture taking and a beautiful sunset.
The cost is 600 pesos per person.
This may be offered in November:  Oasis has a Breakfast with Cruise on Sundays at 9:30am, leaving from Dock M at Marina San Carlos.
This 2-hour cruise includes a selection of your favorites — hot cakes, omelets, chilaquiles, sweet rolls and fruit, with coffee, milk, orange juice, and mimosas.
The cost is 650 pesos per person.
Contact Us:
For more information and photos, or to reserve your spot, contact:
Facebook: Oasis Tours SC
Website: Oasissancarlos.com
Email: oasissancarlos@gmail.com
Call or WhatsApp: 622-142-6777 or 622-169-4231
Office: We are located at Marina San Carlos (between HammerHead's restaurant and the Marina Office)